World-class Silicon Gorge event delivers strong investor interest for SETsquared members
Four SETsquared Bristol members pitched to a crowd of international investors at Silicon Gorge last week, one of the South West's major investor events. All investor prospects had the opportunity to pitch for up to £5 million in cash.
This year's event took place on 6th December at Watershed where 11 of the region's hottest tech start-ups pitched to a room of high-profile investors. Four of those were SETsquared Bristol members: Metasonics, Okulo, Snap Tech, and We Build Bots. SETsquared Entrepreneurs-in-Residence have been working with the selected businesses to perfect their pitches for the day.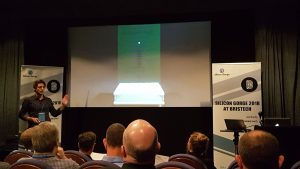 First up was Mihai Caleap, CEO and Founder of Metasonics, whose technology provides ultra-high fidelity control over sound, giving users the capability to shape, direct and focus soundwaves in real time. The start-up is looking for £1 million in funding to develop the technology, grow their team and raise brand awareness for their novel product.
Okulo was next to pitch for £500,000 (including a grant funding raise) for a twelve-month runway to build their team, develop the prototype and to define their market approach. The health tech firm, led by Stephanie Campbell, is opening up eye care directly to individuals with a self-administered platform that aims to detect visual loss before the patient does.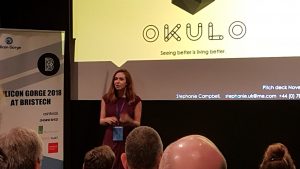 Stephanie Campbell remarked:
"I was thrilled to introduce our start-up at Silicon Gorge.  Presenting as a member of SETsquared community has given me the credibility and the confidence that comes from being part of a high-flying network of individuals in technology, learning from mentors and from each other."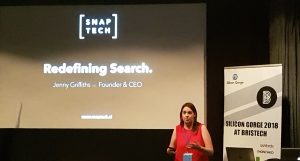 Snap Tech was next to pitch the world's only visual search tool with the ability to separate shape and colour matches, with the use of artificial intelligence and machine learning. The company have received industry-wide recognition, raising £2.7 million over three funding rounds to date. Jenny Griffiths, Founder of Snap Tech pitched for £2 million to grow the team, fund their global expansion, develop new market verticals, and fund new technological break-throughs.
Concluding the SETsquared Bristol line up was Paul Shepherd, CEO at We Build Bots who have developed IntelAgent, an artificial intelligence and analytics platform build for contact centres that works across web, messaging platforms, voice assistants and social media. This year, Paul pitched for £2.5 million to fund their UK expansion and to set up in the US following a successful £700,000 investment round after last year's Silicon Gorge event.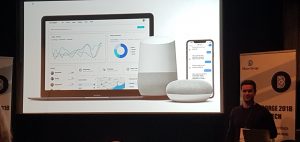 Paul Shepard commented:
"The tech scene in the South West is super buoyant, and the opportunity to place We Build Bots at the centre of the investment conversation was one we couldn't miss out on. The support from SETsquared as we have progressed through the acceleration programme has been phenomenal, and we can't wait to see what the future holds for us as we raise our Series A, and scale the business in the UK and USA."
Six out of ten pitching companies at last year's event were SETsquared Bristol members, including LettusGrow, who recently won first place in two categories of the BMW I: UK Tech Founder Awards, and Immersive Labs who were awarded the SPARKies 2018 "Totally Killing it" award.  Evidently, companies that make it through Silicon Gorge have gone on to achieve much success. If you are interested in mentoring SETsquared Bristol companies or looking for opportunities to invest, please get in touch.
For more information on SETsquared Bristol news, opportunities and events, sign up to receive the monthly newsletter.
Recent News, Blogs and Stories
SETsquared Bristol member, LettUs Grow, has secured £1 million in funding to build world-leading indoor growing facilities and feed the growing global population with its…
On Thursday 13th December, Bristol's tech scene gathered for the final SETsquared Bristol Connect of the year. The December networking event was bigger than usual…
SETsquared Bristol member, KETS Quantum Security, has joined the growing list of ventures that have achieved successful investment rounds in 2018. Corporations and government…
Fast track your high-tech business