SETsquared Bristol's success is our members' success
Our members are 4 times more likely to succeed than the UK average startup*, benefitting from our individually tailored business support.  
Our impact in 2020: 
We supported 80 members across 27 sectors. 
Investment raised 
Over half our members raised investment, attracting a combined £40.2 million. 
To date, our members have raised over £530 million. 
Revenues achieved  
Our members generated £32 million in revenues.  
Jobs created 
They also created 225 jobs. 
Founder diversity 
And women made up 45% of our members' founders/CEOs, while people from a BAME background made up 23%. 
These diversity figures are far higher than the UK average for the tech sector and for business as a whole. 
*Gov UK business 3-year survival rate compared to SETsquared Bristol members' 3-year survival rate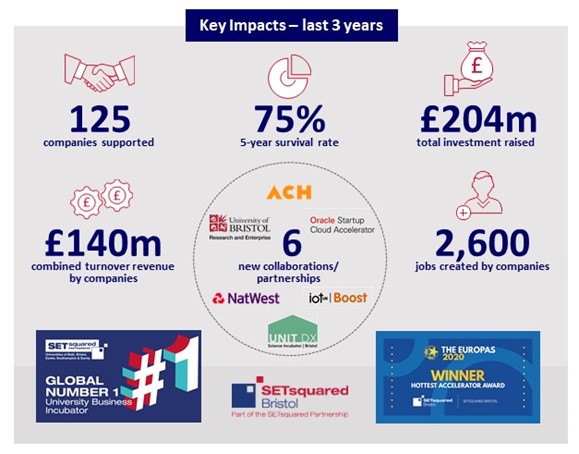 "The SETsquared training courses and the support from Entrepreneurs in Residence have been really helpful, bringing different perspectives that helped us think about what we're doing and challenge us at the same time. SETsquared is very supportive of diverse businesses, and I think that really have businesses thrive. If we hadn't set up the company in Bristol with its supportive ecosystem, I don't know if we would have been where we are right now."
Zara Nanu, CEO, Gapsquare
How to apply
Are you ready to start growing your technology business?