SETsquared Bristol resident members and University of Bristol spin-out, Fathom, have been nominated in the Innovation category for the Green Awards 2020 in Berlin in June 2020. The Green Awards celebrate the most innovative European green projects and minds in the following categories: Youngster, Innovation, Start-up and Impact.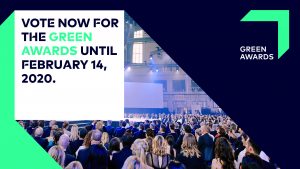 Fathom have been nominated for their global flood risk maps which have been developed using the latest world-leading research with big data. The maps are used for risk reduction, flood prediction, disaster response and climate impact studies by governments, NGOs, communities, and individuals to understand their current and future flood risk and to take remedial action.
There is a public vote to select the top 3 nominations in each category which go through to the judging panel for the final decision.
As a Bristol based small business competing in a global market, Fathom need your help to raise their profile particularly in countries who can really benefit from using their data.
You can vote for Fathom in the innovation category here.
For more information on SETsquared Bristol news, opportunities and events, sign up to receive the monthly newsletter.
Fast track your technology business