Immigration Minister Caroline Nokes visited SETsquared Bristol yesterday to meet with a variety of our member companies to discuss skills and immigration.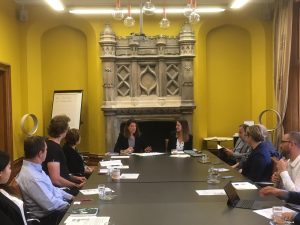 After a tour led by Centre Director, Monika Radclyffe, the minister participated in a roundtable with businesses ranging from T&VS, Sigma Polaris, and iXport.
Immigration Minister Caroline Nokes said:
"I'm determined to ensure that the new system supports small businesses and entrepreneurs – like those I met in Bristol at the Engine Shed – which is why it is important that we engage with groups across the UK.
"We are committed to designing a new immigration system that is streamlined, digital, and prioritises the skills people can bring to the UK, rather than where they come from."
Monika Radclyffe commented:
"Businesses cannot grow and succeed without highly skilled individuals, and it's critical for our SETsquared members as they look to accelerate their growth that they have the right people in place. I enjoyed welcoming Caroline Nokes to SETsquared Bristol today to discuss the skills opportunities and the skills challenges that businesses are currently facing."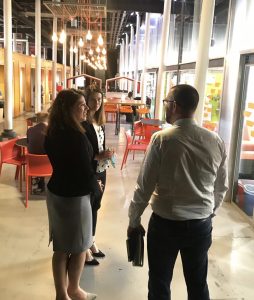 The roundtable covered many topics, from the different requirements of sectors to the rules and regulations around different visa types, the importance of helping refugees into work, to the role of universities and academics.
SETsquared Bristol works closely with organisations, businesses, and government to develop strong relationships and lines of communication to ensure businesses have what they need to grow. You can see the training and collaboration events coming up here.
For more information on SETsquared Bristol news, opportunities and events, sign up to receive the monthly newsletter.
Recent News, Blogs and Stories
Fast track your technology business