SETsquared Bristol Case Study – LettUs Grow: Making agriculture more sustainable in the face of climate change
To help our aspiring entrepreneurs and future SETsquared Bristol members, we showcase a number of case studies demonstrating the breadth of tech at SETsquared Bristol and what it takes to achieve success.
We had a chat with LettUs Grow Co-founder and Managing Director, Charlie Guy…
LettUs Grow Key Facts
Start date:  2015
Market sector: Agritech
Location: Bristol
Number of employees: 22
Amount of investment raised: over £3 million
Company status: growing/scaling
What does LettUs Grow do?
We develop efficient products and services to make agriculture more sustainable and resilient in the face of climate change.
We have designed an indoor farming system that needs no fertile land to operate, uses zero pesticides and provides a climate resilient crop. The offering is centred around two core technologies: an aeroponic system and a farm management software, Ostara.
The aeroponic system has shown growth rate increases of over 70% across a range of crops, compared to current vertical farming methods. Ostara collects data, oversees inputs and traces crop history, making operations more efficient.
What is the ethos underpinning your business? – Why is embedding the triple-bottom-line important to you?
Our impact underpins everything we do. Our company's mission is to improve the sustainability of fresh produce production but we think our impact can be more far reaching than that. We want to lead by example and incorporate sustainability into everything we do from how we source our materials to how we treat our staff and contractors. People are extremely important to us – creating a caring and respectful environment for everyone we work with is one of our key priorities.
We are really proud of the culture and values we have fostered at LettUs Grow. These values are embedded in the work we create and the relationships we build. These can be boiled down into: impact, ambition, care responsibility and honesty.
A big part of embedding the triple bottom line into our founding documents and going for B-Corp status is about keeping us true to these values and accountable as we scale. Our team has expanded quickly since we hired our first employee in September 2017, we now have a team of 22 and growing (we're hiring for two roles now)!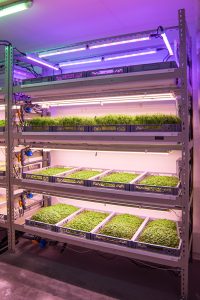 What do you predict food production will look like in thirty years?
Great question! Food production and food consumption will be much closer linked than they are currently, using considerably less resources than we do now. I expect to see substantial change if societies are to meet the Sustainable Development Goals (SDGs).
Technologies such as controlled environment agriculture (or indoor farming) allow us to shorten our supply chains massively, providing fresher, higher quality food all year-round.
We are also seeing unprecedented disruption to existing supply chains, enabling and accelerating the evolution of new business models. Direct to consumer (D2C) models and distributed production/supply are picking up rapidly in the current climate.
How did you enter SETsquared?
LettUs Grow's founders are all graduates of the University of Bristol and we first joined SETsquared following being awarded £4,000 and a consultancy package in the University's New Enterprise Competition in 2017. It was the logical step for us as first-time founders and provided a welcoming network of like-minded people!
How has SETsquared helped you?
SETsquared has helped us in many ways over our growth journey in the last few years. From remote office space and hotdesking in the early days, to advice and mentoring from Entrepreneurs-in-Residence, to training and workshops for all of our staff to attend, to showcasing us to the investment community and beyond at events such as Tech-Xpo… The support has been wide-ranging and transformational/immeasurable.
How has LettUs Grow navigated and responded to the COVID-19 crisis?
As with all businesses, we are having to find new ways of working remotely. Thankfully our technology enables us to operate many of our growing procedures remotely and with little human intervention required.
Because most of the farm's operations are automated, they can be run with only one person on site at any given time to allow social distancing of key workers and minimising strain on an already stretched farm labour force.
We're donating the food which comes out of these Farm Modules to local food banks to ensure that the produce gets to those who need it most. Once up and running, the farms will be able to provide a consistent, predictable and climate-resilient food supply to the local community all year round.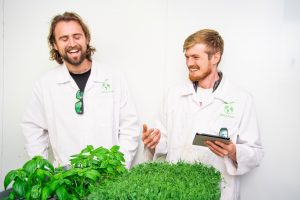 Tell me about LettUs Grow's growth story so far
We have come a long way since the first spark at the end of 2015, we've now run three pilot projects to date and built two state of the art, controlled environment research facilities here in Bristol. Now we're looking to the future.
At the start of the year we received £2.35 million in seed-funding. This investment gives us a platform to really accelerate and scale-up the delivery of our game-changing technology to farmers across the country. We're seeing rising demand from around the world for new technologies to help farmers grow crops in ways that mitigate against the effects of climate change and ever-increasing extreme weather events.
If you could go back and do one thing differently whilst building the business, what would that be?
Expand our senior management team earlier! You just don't know what you don't know. We've only recently begun expanding our c-suite and the knowledge and experience our new team members have brought to the table has improved our operations significantly.
What advice can you give to other aspiring founders
Always put your hand up, stay last at any events and make the most of your connections however few you think you might be starting with. Keep yourself focused on the big goals that you are trying to achieve so that even in times of crisis and uncertainty (cough cough) you can keep your eye on the green grass of opportunity on the other side of the valley!
What are the next steps for the business?
We are in the process of scaling up our facilities for farmers around the UK, so that they can realise the benefits of our technology for their own farms. Then we are scaling up our technology further to supply on even greater scales… Alongside this, we are always expanding the number of crops that we can grow, last week we grew a new variety of strawberry for the first time!
For more information on SETsquared Bristol news, opportunities and events, sign up to receive the monthly newsletter.
Fast track your technology business