SETsquared Bristol has been awarded 'Hottest Accelerator' in Europe at The Europas Awards.
The University of Bristol led incubator, based at Engine Shed, supports the growth of technology-based businesses, helping them move from initial ideas into commercial viability.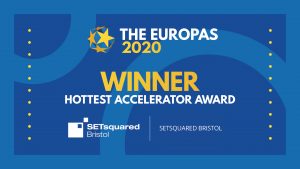 SETsquared Bristol fought off stiff competition to win the title, beating 11 companies in the long list including London and international based Founders Factory and Entrepreneur First.
The Europas is the only independent awards to recognise the European tech startup scene. Set up by online publisher TechCrunch in 2009, it has spotted some of Europe's most innovative and successful startups including Spotify, TransferWise, SoundCloud and Babylon Health.
Steve Edwards, SETsquared Bristol Centre Director, said: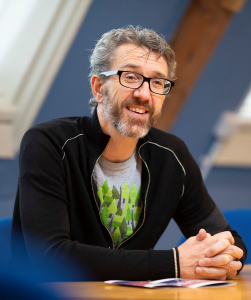 "Bristol is now rightfully recognised on a par with other big tech areas like London, and this is because of its culture and expertise, from high-tech businesses and incubators, to the student, academic and research talent emerging from the University of Bristol and beyond."
Mike Butcher, TechCrunch Editor, said:
"Regional player SETsquared Bristol has helped propel some of the UK's leading startups to success, including Immersive Labs and Ultraleap, to make the South West a hot area for tech."
The title of Hottest Accelerator in Europe continues SETsquared Bristol's ongoing success, having maintained its world-leading position of global number one university business incubator by UBI Global since 2015 as part of the SETsquared Partnership.
With bespoke training programmes, unrivalled access to a network of mentors, alumni, investors and corporate partners, and the knowledge base of the University of Bristol, SETsquared Bristol has supported over 250 start-ups to date, helping them raise more than £500 million of investment.
In the last year alone, its members raised a record £58 million turnover and created 240 new jobs in the city. Its commitment to supporting tech businesses from all backgrounds and communities has resulted in 27% of its members' founders/CEOs being women, and 16% of its members' founders  people of colour.
Bristol has recently been recognised by two leading reports for its tech and startup scenes. Tech Nation 2020 Report cited Bristol as the third top UK city for tech investment, and 8th top European city for emerging tech investment. StartUp Blink named Bristol as the best city in the UK outside of London for startups, overtaking Manchester for the accolade. The city also moved up 57 places globally to be named 68th best in the world.
For more information on SETsquared Bristol news, opportunities and events, sign up to receive the monthly newsletter.
Fast track your technology business