We are thrilled to be confirmed as a finalist of the Hottest Accelerator Award in The Europas, the premier awards for the hottest tech startups in Europe.
SETsquared Bristol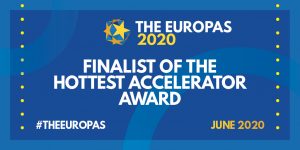 is competing against 5 other companies: ATI Boeing, Entrepreneur First, Founders Factory, Seraphim Space Camp and Startup Wise Guys for the title.  The winner will be announced at an online awards ceremony on 25 June 2020.
Steve Edwards, SETsquared Bristol Centre Director, said: "This is the first time we've entered The Europas.  We are delighted that we have been recognised for our truly bespoke business support that sets us apart, and delivers faster and more sustainable growth for our members."
SETsquared Bristol members have also seen past success at The Europas, with Immersive Labs announced as finalists in 2019, and UltraLeap and Elvie both winners in 2018 and 2017 respectively.
Set up in 2009 by Mike Butcher of Techcrunch, The Europas have recognised some of Europe's most ambitious and successful startups, including Spotify, Transferwise, Soundcloud and Babylon Health.
For more information on SETsquared Bristol news, opportunities and events, sign up to receive the monthly newsletter.
Fast track your technology business