We are recruiting for two job vacancies at SETsquared Bristol, a full-time Business Incubation Manager and Administration Assistant.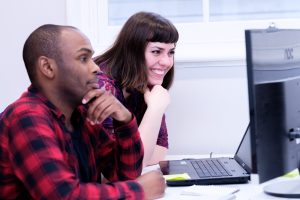 The world's no. 1 university-led business incubator is looking for an ambitious, entrepreneurial and outgoing individual to join the team as a Business Incubation Manager. This will be a perfect role if you enjoy working in a fast-paced tech start-up environment, are a natural networker and have a can-do attitude. The successful applicant will manage all aspects of business incubation activities on a day to day basis. They will be responsible for managing membership of the incubator. With 85 current members, we have ventures joining, leaving or changing their memberships every week. You will also act as a deputy to the Bristol SETsquared Centre Director and represent the University of Bristol with various innovation projects in the region. The ideal candidate will have a background in working in an entrepreneurial enterprise and knowledge of the work practices, issues and culture of entrepreneurial start-up businesses. Apply via University of Bristol by Sunday 6 October.
The Admin Assistant will play a core part of the SETsquared Bristol team, managing the office and organising various activities for our member companies. They will also be the key point of contact for any queries coming in from potential customers or partners, and will personally liaise with our existing members ensuring they receive excellent service. The Admin Assistant will also manage busy schedules of the key team members. The role will appeal to someone who is very well organised and enjoys planning and organising activities. Apply via University of Bristol by Thursday 19 September 2019.
We serve a very diverse audience and need fresh perspectives, so positively welcome applicants from all backgrounds.
To keep up to date with SETsquared Bristol's 2019 Connect events and other activities, sign up to the monthly newsletter and events list.
Fast track your technology business