To help our aspiring entrepreneurs and future SETsquared Bristol members, we showcase member and alumni case studies demonstrating the breadth of tech at SETsquared Bristol and what it takes to achieve success.
We had a chat with Actuation Lab CEO, Simon Bates…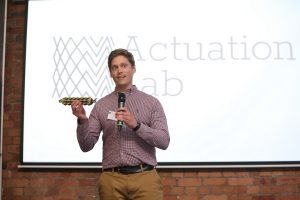 Key Facts
Spin-out of the University of Bristol: August 2019
Market sector: Energy and broader process industry
Location: Bristol
Number of employees: 4 full-time
Amount of investment raised: £250k (S)EIS investment, £480k grant funding.
Company status: pre-revenue focussing on R&D activities
What does Actuation Lab do?
We have coined what we do as "Rethinking Industrial Hardware". In the energy and utilities industries you have endless pieces of greasy, clunky mechanical equipment, the things that keep processes flowing. The not-so-sexy stuff like valves and latches and pistons and springs. What we found is that manufacturers of this very analogue equipment often re-hash the same design for decades, and while digital technology tech moves on, the "nuts and bolts" get left behind. We have got to the position where you have unfathomably smart digital infrastructure, controlling and monitoring hardware that would not look alien to a railway engineer of the 1800s.
From our time working in the academic side of advanced design and manufacturing, we are in a position to do better. We spun Actuation Lab out of the University of Bristol so we could make step changes in this greasy, clunky hardware, significantly bolstering the efficiency and sustainability of process industries.
Could you explain a bit about your hardware solutions and how they help stop greenhouse gas emissions?  
So far, we have secured funding to develop two types of hardware. The Callimorph actuator and the Dragonfly Valve. Actuators are the components that make machines move. The Callimorph is designed to be the first actuator to be made from 100% composite materials, allowing it to last significantly longer in harsh environments than metal counterparts. We are working towards commercialising the Callimorph in the energy and marine industries where corrosion is a crippling issue, and where it is not unheard of for actuators to literally explode into a cloud of springs and rust.
On the environmental side, we estimate the UK gas supply chain loses 300,000 tonnes of CO2 equivalent greenhouse gas every year, through natural gas leaking from valves. The Dragonfly valve's design eliminates leak paths and is being developed to be the industrial standard for leak-free gas flow control. We won a SBRI Sustainable Innovation Fund contract last year to kick off development of the Dragonfly for this application. We are now also gaining interest in the Dragonfly Valve from the emerging hydrogen industry. Green hydrogen is going to be a big part of our Net Zero future, but it is also a nightmare to contain with traditional valves, being the tiniest molecule in existence.
Can you tell me a bit about your background and what led you to start the business?
I came to Bristol to study Mechanical Engineering in 2008 and never left. I went through a degree, PhD and then into an academic role. I enjoyed my time in research, working on projects from developing shock absorbing structures for lifeboats through to building prototype fish tanks, designed to contain fish in space. Despite the breadth of scientific intrigue, none of this really scratched my entrepreneurial itch.
Fortunately, in 2018, my good friend, colleague and serial inventor Dr Michael Dicker came up with the first design of the Callimorph actuator. Over a number of pub-based discussions with our third Co-founder Tom, we became convinced that this tech could solve some big industrial problems. We also knew that we wanted to be doing research that changed industries, not just lined bookshelves, so "getting out" of academia and starting Actuation Lab meant we could also chase that dream.
What was your journey like as a spin-out from the University of Bristol's Composites Institute into SETsquared business incubation and commercialisation?
Nobody will be surprised to hear that it was a steep learning curve. Armed with a few prototypes and lots of enthusiasm, we came runners-up in the 2018 University of Bristol New Enterprise Competition. We were a rough diamond, but keen. With this, we won 12-months SETsquared incubation, which was a godsend. Question number one from the Entrepreneur-in-Residence, asked with a raised eyebrow and a knowing look, was: "so how are you going make money?". At this time, we had a vague and complicated answer and definitely came across as academics rather than entrepreneurs.
In spring 2019 we fortunately won a place on Innovate UK's ICURe programme which allowed me to travel the world, do some serious market validation, and better answer the money question. We identified the issue of catastrophic failure of valve actuators in marine environments as a serious issue that our technology could solve. From there, we pitched our business plan to Innovate UK and won £300k follow on funding. We also won further financial backing and support from the Oil and Gas Technology Centre (OGTC) and the Bristol QTECincubator. It is worth noting that we applied for all the support we could get to accelerate our learning and we have met some amazing people across ICURe, QTEC, OGTC and SETsquared as a result. Quickly understanding that we had a lot to learn and continuously seeking out help was one of the things I would say we have done right, and we will keep this attitude as a company value as we go forward.
How has SETsquared Bristol helped you?
SETsquared helped us realise what it actually takes to start up a business. We attended a lot of workshops in our first 12-months. This provided a strong knowledge base for going out and fundraising but also helped us figure out the less glamorous stuff like cashflow forecasting, how to spot a nasty clause in a licensing agreement or when to shut up about your technology so you don't scupper your chances of protecting it. SETsquared has a buzz around it and we always make the most of the evening events, helping us connect and let loose with the wider Bristol startup network.
You recently welcomed SETsquared mentor, Dr Steve Kitson, to the board as Chair. What advice would you give to startups when looking for a mentor or chair?
If you are looking for a mentor, get yourself into some accelerator and incubator networks, even if it is just attending the drinks events, and passionately talk about your ideas to people. Good potential mentors will share your enthusiasm and get you to dig into what you think your challenges are, rather than just reeling off unsolicited advice.
We met Steve Kitson through QTEC and SETsquared and he mentored us for 12-months before it became clear to us that he was the man for the Chair role. Some people hold the firm opinion that the number one thing your Chair should have is extensive experience in the industry you are working in. I instead subscribe to the idea that it is more important that your first Chair is able to help the founders build a board, build their processes and act as something in between a strategist and a therapist. Steve has been great at this, and we are now running a much tighter ship; his input regularly helps me untangle my thoughts.
What investment have you raised?
We raised a total of £250k investment this year and around £480k of grant funding since we kicked things off. Our lead investor in our funding round was Deepbridge Capital and further supported by 4 friendly angels. I mean it when I say they are friendly angels, the patience and encouragement you get from a small group of angels who you get to know well makes the fundraising process slightly less stressful. It also means I'm looking forward to arranging a shareholders' summer cocktail party!
What are you most proud of?
It is really satisfying that all the hard work so far has got the company properly up and running. I will say I am proud once we can show we have made a big dent in emissions and measurably increased industrial efficiency with our technologies.
If you could do one thing differently whilst building the business, what would that be?
Early on, I realise that we were having a lot of "good conversations" with either potential funders or industry stakeholders. These are conversations where everyone feels good about the chat you just had, some positive feedback was received but no action comes from it. So, I would go back and reclaim that time that was wasted, and generate some more actions from those conversations, even if it meant getting someone to commit to a "no" more quickly.
What are the next steps for Actuation Lab?
We moved to the National Composites Centre in Bristol in March this year and kicked off an Innovate UK project. This is going to allow us to rapidly progress our technology towards industrial prototypes so we can begin realising the dream of having our technology utilised in industry. We have also just hired another excellent engineer and welcomed our mentor Jonathan White officially as a Business Development focussed Board Advisor. With all this happening, we are very excited for what the next year holds and we promise to share some videos of some next generation hardware doing its thing very soon…
Discover more of the companies SETsquared incubate here and sign up to the monthly SETsquared newsletter to keep up with news, events, opportunities and more.
Recent News, Blogs and Stories
Fast track your technology business