Bristol-based biotech startup, Ferryx, has raised £300k seed capital from Deepbridge Capital for further development of its innovative solution to common gut problems.
Ferryx is a University of Bristol spin-out company that joined SETsquared Bristol in 2020 and has since won 'Best Elevator Pitch' at our Tech-Xpo 2021 Showcase.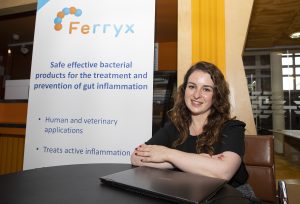 The company aims to tackle the lack of satisfactory treatments for gut inflammation. Gut inflammation is an excruciating condition and one form, inflammatory bowel disease (IBD), affects 6.8 million people worldwide.
Despite its high prevalence, a lack of satisfactory treatments leaves sufferers reliant on medications with significant negative side effects. As a result, patients turn to probiotics as they are regarded as safe and natural alternatives to conventional drugs and their associated side effects.
Ferryx's lead product, FX856, is a probiotic with demonstrated anti-inflammatory properties that survives and thrives during active inflammation. Currently there is no available probiotic that can function during periods of active inflammation.
Dr Jenny Bailey, CEO at Ferryx, commented:
"We are delighted to be working with Deepbridge. Their expertise in the life sciences sector adds significant value to this investment and we feel that they are our ideal partners at this pivotal time as we look to launch our first product and work towards clinical trials."
Ben Carter, Investment Director, Head of Life Sciences, at Deepbridge Capital, added:
"Jenny and the team at Ferryx absolutely represent the inspiring innovators that we look for in early-stage life sciences companies. We are delighted to be supporting another great university spin-out in the burgeoning UK life sciences sector."
Ferryx is preparing for the launch of FX856 as a food supplement product, whilst simultaneously preparing to take the product through a clinical trial in patients with inflammatory bowel disease.
Fast track your technology business