To help our aspiring entrepreneurs and future SETsquared Bristol members, we showcase member and alumni case studies demonstrating the breadth of tech at SETsquared Bristol and what it takes to achieve success.
We had a chat with Xavier Analytics Co-founder and Head of Design and Marketing, Helen Lloyd…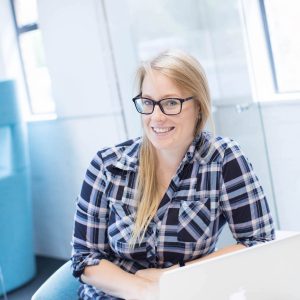 Xavier Analytics Key Facts
Start date:  June 2018
Market sector: Fintech & Accounting
Location:  Bristol
Number of employees: 7 (pre-acquisition)
Amount of investment raised: £380,000
Company status: Exited
What does Xavier Analytics do?
Xavier is a tool for accountants and bookkeepers to manage the health and quality of their clients' data. Xavier uses AI-assisted tools to check for common mistakes and errors. Using high-quality accurate data, Xavier then provides deep performance analytics and advisory insights for practices to help their SME clients succeed.
What led you to start the business?
The Xavier founding team is made up from a small web development agency, Hatch Apps and the Bristol accounting agency, FD Works.
The Hatch Apps team (Rich Nicolson, James Hulse and myself) had been looking to build a product after four years of contracting, so we approached our accountant, Jonathan Gaunt from FD Works. As it happened, Jon and Simon Williams had an idea for a product they wanted to take forward, so we teamed up. With the Hatch team's skills and experience building SaaS MVPs and FD Works' product knowledge and finance skills, we had the perfect team!
How does Xavier provide assurance and value for small businesses?
Mistakes made during the accounting and bookkeeping process can take a huge amount of time and effort to detect, and can be extremely costly for small businesses. Furthermore, forecasting and planning made on inaccurate data can cause poor decision making at a time when SMEs need the most help. Xavier makes detecting, cleaning up and maintaining financial data instant and easy. Accountancies then have clean, reliable data and the confidence to provide better insights to their clients. The practice-wide views allow accountants to detect and prioritise clients that need help before problems arise.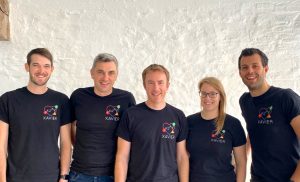 How did you enter SETsquared?
Rich led the Hatch team which won first prize at the Bristol Startup Weekend in 2018, and as part of that prize Rich had the opportunity to attend a session with Rick Chapman, Entrepreneur-in-Residence (EiR) at SETsquared Bristol. It was hugely useful, and while we didn't end up taking that startup idea forward, when we came up with Xavier we knew we wanted to be part of SETsquared so we could receive that same support.
 How has SETsquared helped you?
SETsquared has been invaluable for us for trusted advice, training and information, at all stages but especially during the acquisition. The EiR sessions and Business Review Panels are an opportunity to really focus on the big picture and get advice from really experienced people. The community is fantastic too. We meet so many amazing entrepreneurs in SETsquared all at different stages; it's great to get inspiration and support, and just share with people who understand the journey.
Tell me about Xavier's growth journey so far, which led to the acquisition by Receipt Bank.
We started building a forecasting app initially (codenamed Magic Brian) and while we were building it we found accounting data errors were causing us all sorts of problems. On speaking with FD Works we found there was no regular process or solution to solving them, so we built the first version of Xavier to catch them as part of a Xero hackathon in 2018. We realised that actually Xavier was a more unique and effective tool that could make a real difference in the market, so we joined SETsquared and applied for an Innovate UK grant to help Hatch stop contracting and focus on building it out.
Once we won the Innovate UK grant, we had Jonathan Gaunt's (Founder of FD Works) accounting contacts help us introduce Xavier to the market, and by engaging with our users and focussing on building out a great product we saw our numbers just continue to grow and grow. We took Xavier to Xerocon in 2019 and had a fantastic reception, became Xero App of the Month that December and then won the Xero Emerging App of the Year award in March 2020. We were approached by Receipt Bank shortly afterwards, and acquired in June 2020.
You have recently launched in Australia, what challenges have you encountered launching in a foreign market?
It's a real challenge! Australia was a great opportunity for us, but the market is very different too, so we needed to make some quick adaptations in order to compete with any Australian-grown competitors. We're still rolling out localised features specifically for Australia months after the launch.
The time difference meant we had to have support and sales in place to handle enquiries before launch, so we had to train those people on the Xavier product pretty intensely. Because travel wasn't possible in 2020 we had some very late nights and early mornings before and after launch to support them.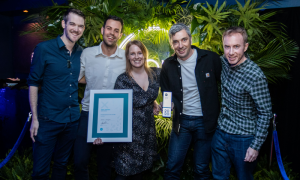 If you could do one thing differently whilst building the business, what would that be?
At the point that we started Xavier we didn't create a new company, we just used Hatch Apps and started trading as Xavier Analytics. At the time we weighed the options of doing this and chose to continue with Hatch Apps for several different reasons, planning to sort it out later. It was easy to put off, but having a clean slate, tidy Companies House records and easy paperwork would have saved us some fees and me a lot of grey hairs!
What are the next steps for Xavier?

We actually just went through a huge rebrand, to become Dext Precision! This is a big step for us and Receipt Bank (now Dext Prepare) to become a multi-product company under the new Dext brand. The Bristol team has been growing rapidly, from 7 at acquisition to 23, with more hires to come – we have some great things on the horizon as part of Dext, including new functionality and regions, so we're going to be really busy.
Do you have any advice for startups looking to exit via mergers and acquisitions?
I would advise startups to be prepared – generally there's a lot of focus on going out for investment, but like us, an acquisition can kick off at any time out of the blue and needs just as much supporting material to lock in at all stages.
It's easy to get caught up in the negotiation details as well, so make sure you take time to look at the bigger picture and direction and that you're still happy with it. Not only does it prevent you from signing something you don't want, it's also a powerful thing in negotiation to be able to walk away.
Finally, speak to your SETsquared advisors and others who have been through the same process. The best advice we had from EiR, Greville Commins, was: "on day one post-acquisition, if that was all you ever received, would you be pleased you did it? Because once you sign the document, that's still all that's actually guaranteed". I'm pleased we did it!
Discover more of the companies SETsquared incubate here and sign up to the monthly SETsquared newsletter to keep up with news, events, opportunities and more.
Fast track your technology business