Emm, a Bristol-based biotech startup, has developed a first-of-its-kind biowearable with the potential to revolutionise female health. Having closed its pre-seed funding of over $1million, it is now in Beta testing, readying for full production and launch in 2023.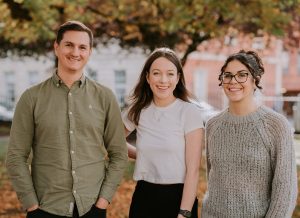 Founded in 2020, the company joined SETsquared Bristol in May 2021 and is working in partnership with the University of Cambridge.
Emm's smart menstrual health cup uses proprietary sensing technology to monitor and analyse specific biometrics, empowering and informing the user through unique health insights and data.
Initially, Emm will provide personalised data and unique insights into menstrual health. It automatically syncs with a smartphone app allowing users to understand their baseline health and spot any changes in patterns or irregularities in their cycle that could indicate a health issue. In its first generation, Emm will monitor menstrual flow rate, volume, length, and regularity.
It's this regular monitoring which has the potential to lead to earlier diagnosis – and treatment – of numerous reproductive health conditions that otherwise can take years, and it could prove crucial in closing the gender health gap, with female health currently receiving just 2.5% of health research funding[i]. 1 in 5 menstruators suffer from heavy menstrual bleeding but there is no means of accurately measuring the condition or the impact of the treatments prescribed for it.
However it's what the future holds for Emm that has piqued the interest of organisations like Google, Innovate UK, and the University of Cambridge. Using its smart-sensor technology, future generations of the Emm cup will have the scope to measure and analyse further biomarkers painlessly, non-invasively and conveniently, opening the door for extensive data and research.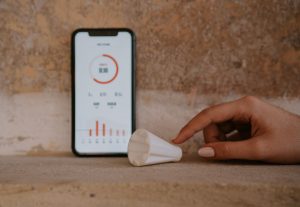 Emm is set to lead the way in the consumerisation of healthcare in this area, empowering individual users on a broad scale to monitor their health actively and accurately. This will increase opportunities to spot signs of potential issues early and prevent, rather than cure, them, saving both expense and increasingly-stretched health service resources.
When it comes to design Emm has also put form front and centre, with a user-centric design based on extensive user research and involving hundreds of prototypes. Uniquely engineered in a way that's unlike any other menstrual cup, Emm – made from medical-grade silicone – features a patent-pending dynamic, adaptive seal which shapes to the individual for user reliability, comfort and ease of use. Combining this pioneering design with the convenience and benefits of a tampon applicator, Emm has created a product with broad user appeal, aimed at capturing a chunk of the global feminine hygiene market, currently worth $25bn[ii]. 
Emm Founder Jenny Button, who has won a Women in Engineering Grant in recognition for her innovation in health, says: "There is so much biological information that could enable early intervention for healthcare, but no route to clear access. The menstrual cycle is a non-invasive route to giving our users better health data for better health outcomes. Many health conditions are difficult for researchers to analyse at the moment because they require invasive testing or regular monitoring which is inconvenient, time-intensive and often uncomfortable. Emm has the potential to do this in a practical, painless way.
For Emm to be a useful tool with the potential to revolutionise research into female health, it needs to be something people actually want to use. That's why it was important we developed a best-in-class period product."
Emm will be available in 2023. For more information please visit emm.co.  
[i] UKCRC Health Research Analysis 2014 
[ii] Feminine Hygiene Products Global Market Report 2021
Recent News, Blogs and Stories
Fast track your technology business