A cohort of 13 women entrepreneurs showcased their innovative startups at a pitching event on 15th February as a finale to our Enterprising Women 2.0 pre-incubation programme.
Now in its second year, the NatWest funded programme helps women-formed businesses to access SETsquared Bristol business support, including coaching, mentoring, pitch training and workshops.
The event, hosted at Bristol innovation hub Engine Shed and publicly livestreamed, celebrated the cohort's progression towards commercialisation.
The entrepreneurs pitched their solutions to some of the world's biggest problems, including food waste and microfibre pollution, stroke rehabilitation and online safety. Each included an audience call out to engage, collaborate or invest.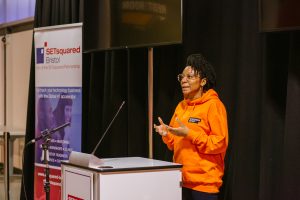 Aisha Thomas, Enterprising Women 2.0 member and Director of Representation Matters, a social mobility business, said:
"Starting a business on your own isn't easy, women in business do not always get the accolades they deserve. Having a network of phenomenal women made my startup experience durable. SETsquared provided a foundation of knowledge and access to outstanding experts, which has helped propel my business and take me to the next level."
Previous participants of Enterprising Women, Amber Probyn and Hazel McShane, returned to the event to talk about their brainchild, PEEQUAL, the UK's first women urinal. Since taking part in the programme, the pair have successfully raised £250,000 in their first funding round.
Other Enterprising Women members have gone on to join our incubation programme, including Grand Bequest, Ferryx and Gritty Talent.
Cheryl Gourlay, NatWest National Women in Business Manager, said:
"We know that building back better following the pandemic needed to include practical interventions that make a real difference to the success of our business community. The Enterprising Women programme has made a huge difference to the women who took part, giving them the tools and confidence to achieve their ambitions."
Marty Reid, Director of SETsquared Bristol said:
"We're dedicated to championing diverse startups to make sure they get the opportunities and success they deserve. Enterprising Women has enabled us to extend our services beyond our usual focus of tech incubation, to help entrepreneurs turn their ideas into commercially viable business propositions. It's been a privilege to work with such a great group of founders and we can't wait to see where they take their ventures next."
Enterprising Women is one of our initiatives to support diverse founders. We are thrilled that 45% percent of our tech companies are now led by women and our aims are to continue to improve representation and investment experiences for diverse startups.
You can watch the Enterprising Women Showcase recording here, and find out more about the companies here.
If you're interested in applying for the next Enterprising Women programme, sign up to receive our monthly newsletter for the next callout.
Recent News, Blogs and Stories
Fast track your technology business