18 start-up companies from Bristol's world-leading tech scene have been announced as exhibitors for this year's SETsquared Bristol Tech-Xpo. The annual event will take place on 18th June 2019 at Paintworks, Bristol. The invite-only showcase is an opportunity for exhibitors to meet potential clients, investors, partners, and influential business leaders, and to showcase their innovative and disruptive technology.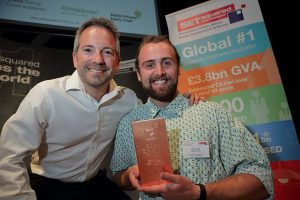 Tech-Xpo 2018 saw Charlie Guy, CEO of sustainable food-tech business, LettUs Grow, win 'Best Elevator Pitch' as voted by the audience. Since their win, LettUs Grow has received £1 million in funding and been named the UK's best Tech for Good start-up in the UK. The roll call of companies exhibiting at Tech-Xpo 2019 includes Actuation Lab, Bristol Pound, OKKO Health, and Vitamica, see below for the full list of businesses.
SETsquared Bristol Centre Director, Monika Radclyffe, said: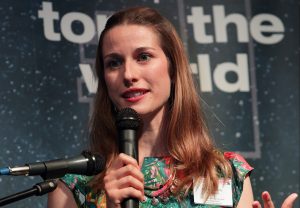 "Tech-Xpo is one of the highlights of our event calendar year after year, and we're pleased to be working with lead sponsors VWV again, this time bringing 20 exhibitors to a new part of the Enterprise Zone at Bristol's Paintworks. The event is a great opportunity for exhibitors and pitching business alike, where they have a great opportunity to meet with potential clients and investors. Winners of the Best Elevator Pitch competition have gone on to achieve great success, so we're looking forward to announcing this year's pitching line up in the coming weeks."
Local lawyers, VWV have sponsored the Tech-Xpo event for a number of successive years, in recognition of the importance of the tech sector particularly in the South West. VWV also runs a Lawyer-in-Residence service at SETsquared Bristol, to support companies seeking legal advice.  EY, Research and Enterprise Development at University of Bristol, and Corrigan Accountants are also sponsoring this year's event.
Becky Sage, Founder of Interactive Scientific, who won the 'Best Elevator Pitch' accolade in 2016, said: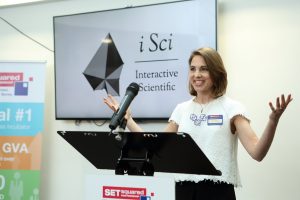 "Tech-Xpo is a highlight on the event calendar for Bristol's tech community. It's a brilliant way for us to network with potential clients and investors, as well as our peers. Winning 'Best Elevator Pitch' in 2016 was a great achievement for us, and we keep returning to Tech-Xpo year after year for the outstanding business opportunities that it brings us."
Becky, who was named one of the top 15 Women in Innovation in the UK will be exhibiting her interactive VR learning tool at Tech-Xpo for the third time in 2019.
Many companies pitching at Tech-Xpo in previous years have gone on to celebrate large successes, including Lisa Matthews, Co-Founder of HellyHolly, who was named one of The Telegraph's Top 50 Women in Engineering last year. Those pitching for business at this year's event will be announced in the coming weeks. Watch the video of last year's Tech-Xpo, and find out more about this year's exhibiting companies below.
Information about exhibiting companies
Actuation Lab has developed an alternate to heavy hydraulic cylinders by employing an origami-inspired design and composite manufacturing technique to produce an actuator with the potential for greater power-per-kilogram than any prior art.
agileBase is a cloud-based platform that offers everything you need to rapidly create enterprise-class software, tailored to fit a business.
AutonoMe is a learning disability support provider using technology to deliver and measure independent living skills. The first of its kind, AutonoMe has raised £500k investment, and can be found in a number of Local Authorities in the South of the UK.
Bristol Pound is the UK's largest local currency. It aims to create a more resilient and sustainable independent business sector in Bristol, and in turn, a more inclusive local economy. It does this by keeping the money spent in Bristol Pounds in Bristol, helping to develop a local circular economy.
Cerberus Security Laboratories is a business firmly focused on delivering leading edge Internet of Things (IoT) solutions to the consumer, industrial, automotive and medical markets.
Cotham Technologies develops products and technology for the next wave of innovation and digital transformation in the IoT, smart device and cloud area: transforming user experience, productivity and workflow.
Data Cubed is a data lab and consultancy business that helps businesses to make quicker, smarter decisions, and ultimately to make or save more money, using data and AI.
ELEM Biotech is a spin-off from the Barcelona Supercomputer Centre. It develops biomedical modelling solutions to test medical treatments in preclinical phases. It shortens time-to-market, reduce business risks, and improves outcomes for patients by conducting medical experiments on supercomputers.
Fluence provides language analytics services. By analysing how your experts have acted in the past, the Fluence platform can predict outcomes, and automate decisions in the future.
Interactive Scientific create immersive digital tools that make the invisible, scientific world visible. They help today's educators and scientists, such as collaborators at MIT, to work more creatively and collaboratively.
iXport is a technology company providing a turnkey solution to enable SME's to export globally, providing an easy to use, easy to set up, e-commerce platform specifically designed for exporting with technology to provide real-time freight, forex, and export documentation quotes, all under one platform.
LiketoBe is the social learning platform for young people to achieve their career aspirations. We provide a digital outreach service, which includes media production for employers, enabling them to connect more efficiently and more regularly with a national online network of students.
Maths with Parents is an online platform that helps parents and children to love learning maths together at home. Maths with Parents works with primary schools to create a tailored package of support for the parents and children in every class.
OKKO Health develop smartphone software to allow patients who are at high risk of eye disease to self-monitor from home and avoid hospital.
Optifit use machine learning and computer vision to contactlessly detect people's vital signs, such as heart rate, using regular cameras (e.g. smart phones).
SigmaPolaris optimise the recruitment process for corporate enterprises and recruiters though candidate online assessments delivering quantitative AI profiling and matching of candidates for better job-vacancy fit.
TableTiger closes the massive gap in restaurants' knowledge of their customers. TableTiger enables payment at the table and flows to a one page survey. It delivers game-changing customer data and uses AI to create meaning and action from the information they capture.
Vitamica has developed and patented an optical technology that quickly informs prescribers whether an antibiotic will be effective against a bacterial infection. This is of vital importance as antibiotic resistance has made many infections untreatable, emphasising the importance of appropriate antibiotic selection.
SETsquared Tech-Xpo 2019 Brochure
For more information on SETsquared Bristol news, opportunities and events, sign up to receive the monthly newsletter.
Recent News, Blogs and Stories
Fast track your technology business