The annual tech showcase event will be held at Circomedia on 28th June 2018
20 Bristol tech companies have been announced as exhibitors
VWV, ForrestBrown, Bristol Private Equity Club, and Oracle Startup Cloud Accelerator are confirmed as sponsors
SETsquared Bristol has announced 20 exhibitors from Bristol's world-leading tech scene for this year's Tech-Xpo 2018 line-up. The annual event will take place on 28th June 2018 at Circomedia in Portland Square, Bristol. The invite-only showcase is an opportunity for exhibitors to meet potential clients, investors, partners, and new connections.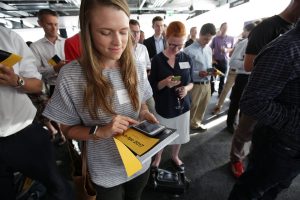 Last year's event, saw Lisa Matthews, CEO of Kairo (now known as Our Canary), win 'Best Elevator Pitch' as voted by the audience. This year, she will be exhibiting their chat-based assistant for work and home. The roll call of companies exhibiting at Tech-Xpo 2018 includes A2Z Technologies, AutonoMe, beebooked, Cerberus Security Laboratories, Cotham Technologies, Duel, VIKA Books, Fluence World, Good Sixty, Gradient, Our Canary, Interactive Scientific, IoTechnics Ltd, LettUs Grow, Living DNA , Metasonics, Studio Meineck , Test and Verification Solutions, YellowDog, and YoUrban.
SETsquared Bristol Centre Director, Emma Thorn, said:
"Tech-Xpo is a highlight of the year for us, and we're excited to host this year's event at Circomedia, bringing arts and tech together under one roof. It's a great opportunity for our line up of 20 fantastic exhibitors, who will meet with investors and potential clients. Companies who have pitched at Tech-Xpo have gone on to achieve some incredible successes, so this year's list of pitchers will be one to watch"
For a number of successive years, local lawyers VWV, have supported the Tech-Xpo event in recognition of the importance of the tech sector particularly in the South West. Oracle Startup Cloud Accelerator, Bristol Private Equity Club, and ForrestBrown complete the sponsor line-up.
Nathan Guest, Partner & Head of Technology at VWV commented:
"VWV are delighted to sponsor the SETsquared Annual Tech-Xpo 2018 – our eighth consecutive year as a main sponsor. SETsquared and its ventures continue to be a cornerstone of our technology sector practice and we are very proud of our association with it.

"Since October 2009, we have provided the free, weekly, Lawyer-in-Residence service to SETsquared Bristol and, since October 2014, to SETsquared Bath – a total of 18 pro bono hours each month. The Tech-Xpo is a great opportunity for us to reinforce our commitment to both SETsquared and the exciting high-tech, high-growth potential companies and entrepreneurs that it supports."
Companies pitching at Tech-Xpo in previous years have gone on to celebrate large successes, including Interactive Scientific, who have been awarded multiple accolades in the time since, including Founder, Becky Sage, being named one of the top 15 Women in Innovation in the UK. Those pitching for business at this year's event will be announced in the coming weeks.
Fast track your technology business