Ziylo was recently acquired in a deal worth up to $800m, giving rights of its glucose-binding molecules to Novo Nordisk
Dr Harry Destecroix progressed through the SETsquared incubation programme with Ziylo, which he founded as a University of Bristol spin out in 2015
Bessemer Fellowship is awarded to the person who exhibits tenacity, drive, ambition, and strong moral principles
Dr Harry Destecroix, Former CEO and Co-founder at biotech company Ziylo has been voted Bessemer Fellow for 2018, and received the Lifetime Fellowship Award at the Bessemer Society AGM on 20th November. Harry is now CEO and Co-founder at SETsquared Bristol Alumni member, Carbometrics, and partners, Unit DX,
The award was presented at a ceremony at the Armourer's Hall, London, where Harry was inducted into lifetime fellowship of the Bessemer Society. The award is given to the person who best exhibits the Bessemer Spirit of tenacity, entrepreneurial drive, technical acumen, ambition, and strong moral and social principles.
Ziylo was recently acquired by Novo Nordisk in a deal worth up to $800m. The Cophenhagen-based pharmaceutical giant will gain full rights to Ziylo's glucose binding-molecules, which have the potential to become a revolutionary treatment for diabetes and to put Bristol on the global biotech map.
As a spin-out from the University of Bristol, Ziylo went through the SETsquared ICURe programme to validate their idea in the marketplace before joining SETsquared Bristol in 2015, where they progressed through the business incubation programme.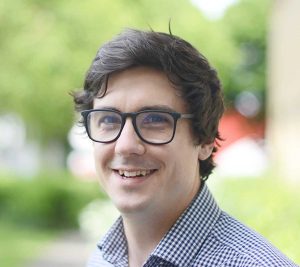 Dr Harry Destecroix said:
"I am honoured to have been given the Bessemer Society's Fellowship Award. There has been a tremendous amount of teamwork involved and I would like to thank all of my colleagues and partners who have contributed to the success of Ziylo and Unit DX. None of this would have been possible without their hard work and dedication. I look forward to working with them all to help grow and support the Bristol science cluster."
Alex Stewart, Founder of the Bessemer Society, said:
"We're delighted that Harry is receiving this award, in recognition of his success in developing Ziylo Ltd and ultimately achieving a record-breaking deal. At the same time, Harry established Unit DX, a successful incubator office with wet lab facilities in Bristol, for companies without suitable facilities. These are risky ventures requiring all of the qualities that form the Bessemer Spirit. He is therefore a very worthy winner, with a long career ahead of him, which we will be very pleased to follow and support."
The Bessemer Society is named for Henry Bessemer, who developed processes for the manufacturing of steel. Like Henry Bessemer, Harry Destecroix has achieved great entrepreneurial success before the age of 30, having founded Ziylo whilst finishing his PHD at the University of Bristol, and co-founding SETsquared Bristol's partner, the Unit DX science incubator.
The Society is a forum of CEOs, founders, and entrepreneurs committed to successful innovation in science and technology, and provides a community that shares and benefits from the experiences of top tech companies from diverse disciplines.
For more information on SETsquared Bristol news, opportunities and events, sign up to receive the monthly newsletter.
Recent News, Blogs and Stories
Fast track your technology business