We're delighted to welcome Kimberley Brook as our new interim Director at SETsquared Bristol. As Director, Kim will focus on the strategic growth of our incubation and pre-incubation programmes, alongside the development of corporate partnerships and investor relations.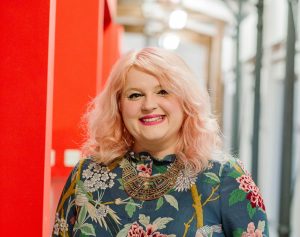 Kim takes the helm from Marty Reid who has taken up the role of Interim Executive Director at SETsquared Partnership.
We asked Kim some questions about herself and her plans in role: 
Tell us a little about yourself and your previous work background? 
I'm originally from the Wirral in Merseyside and moved to Nottingham to undertake a Law degree, followed by a solicitors training programme. After completing my education, I decided I didn't want to pursue a legal career and instead went into higher education supporting the training of international students.  
I moved to Bristol in 2014 and joined the University of Bristol's Quantum Engineering Technology Labs research group, before moving into the University's Research and Enterprise Division to support the drafting and negotiation of university grant and consortium agreements. After lecturing on commercial and contract law for the Quantum Technology Enterprise Centre (QTEC) I joined their management team where I developed the enterprise training programme for academics looking to commercialise new quantum and deep technologies.  
It was at QTEC that I came into contact with SETsquared Bristol and I became part of the team supporting the running of the incubation programme in early 2021.
What appealed to you about leading SETsquared Bristol? 
With a great reputation in incubation and such fantastic companies as members, SETsquared Bristol is such an exciting place to work. I'm passionate about the development of new technologies, especially those that can do real good and deliver impact, so being around the companies here has been really awe-inspiring. I'm looking forward to working closely with our members and providing new ways to support their growth.  
What are your future plans for the tech incubator? 
Equality and Diversity have always been something SETsquared Bristol has put at the heart of our tech incubator. Initiatives like the Breakthrough Bursary and Enterprising Women have allowed us to offer free or heavily subsidised support to women and founders from minority ethnic backgrounds. Many of the businesses we've worked with have had huge amounts of success due to the support offered. In 2023 we'll be undertaking further research on how we can provide additional support for founders with disabilities and we're looking to provide training on how to diversify the pool of chairs, boards and mentors for tech businesses within the local region.  
I also want to increase opportunities for more tech businesses to access our world-class support. We plan to introduce a new membership option for those who previously may not have met the full criteria for membership but would still benefit from our workshops, events and community.   
Who inspires you? 
I have been fortunate to work with some really strong women leaders over my career and they have helped shape the way I work and how I engage with my own teams. My first line manager in Bristol was Caroline Clark (previous COO of KETS Quantum and Co-founder of Zebera Design) who I worked with closely for several years. Caroline showed me how you can still be assertive whilst showing kindness and compassion and her leadership empowered me to drive my career forward and take risks to keep pushing my boundaries.  
In the enterprise space I was fortunate enough to work with Jane Blennerhassett (nee Garrett) who was our Director of Enterprise at QTEC. Jane was unfaltering in her approach to enterprise education, and her background as the CEO of a tech business who floated on the stock exchange made her the ideal person to work with on shaping training programmes for budding entrepreneurs and early-stage tech businesses. Her founder-first approach has been a real inspiration for me in the way I support people on their entrepreneurial journey. 
What's your specialist subject? 
I've got a varied background, I know a fair bit about commercial and contract law as well as picking up some knowledge from my time working with quantum researchers.  
In addition, over the past few years I've been honing skills in enterprise education, and training students and researchers with the early-stage business knowledge needed to inspire potential entrepreneurs to build startups.  
What is the most interesting tech trend you see in 2023? 
The trend I'm most interested in seeing develop is the 'Metaverse' as I feel 2023 will be a defining year for this technology. I am particularly interested about the influence this technology will have on our work life and the way we at SETsquared engage with our members. I'm intrigued as to how we can utilise the virtual world alongside our real-world engagements to better support our businesses.  
Other sectors which I want to see more of this year is healthtech and greentech. We already have a fantastic healthtech cluster in Bristol and over the past six months we have started seeing a real increase in the number of greentech companies who are entering our programmes. I can't wait to see what can be achieved in these areas over the next 12 months.  
What's your hidden talent? 
Prior to doing law I trained in musical theatre and love singing and dancing when I have free time. I've been in a few professional shows in the West End and around the UK as well as in Bristol. You can catch me singing karaoke at our next Get Up Startup' social at Engine Shed in the Spring!  
Fast track your technology business