Latest financing for Micrima developing a disruptive breast cancer scanning system
SETsquared Bristol alumnus, Micrima limited, have closed the latest fundraising round by way of a convertible loan note. The company raised £1.9 million from new and existing shareholders which is being matched by the 'Future Fund', the UK government initiative delivered by the British Business Bank, thereby providing Micrima with £3.8 million of funding in aggregate. Technology venture partners led the round with participation from  Angel co Fund  Greenwood way Capital and Venture Partners. The funding remains open for another 90 days with a headroom of £600,000 so anyone else who wishes to invest in Micrima please contact them on the email below.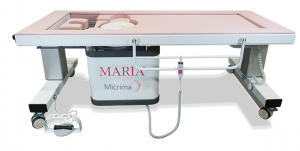 Nick Randall the Chairman said: "This investment will allow us to move the company into the next phase with a system that has a place in a clinical workflow and more exciting functionality to come as soon as clinical data collection can recommence".
This funding will allow the next stage of development and commercialisation to take place. There will be a lunch of a 7th generation of the radio-wave breast scanning system MARIA® later this year. This latest iteration will still offer a safe system– no ionising radiation, a comfortable system– no breast compression and a system that in clinical trials in diagnostic clinics has proven effective at accurately identifying cancer ,Its proven to be better than the gold standard in dense tissue. It will also offer new functionality in a density score as well as improvement in accuracy and ergonomics.
Adrian Waller the new CEO says:
"I first became aware of Micrima some 4 years ago and it has been really interesting to see them moving forward and overcoming their technical challenges with the development of their latest device.  This latest round of funding allows us to take the new system and work on automatically classifying findings using the rich data set that it produces, which has every opportunity to transform the landscape of breast cancer detection."
About Micrima
Micrima is a commercial stage company which has developed a new imaging method, the MARIA® system, based on radiofrequency technology to improve early diagnosis of breast cancer. Micrima has reached a significant development milestone with initial sales of its novel breast imaging technology. Micrima is now set to set to embark on a full commercial launch with distribution already established in Germany, Austria and Switzerland through an agreement with Hologic, Inc. More information on Micrima can be found at https://micrima.com/.
For investment enquiries, contact: elizabeth.blake@micrima.com
Discover more of the companies SETsquared incubate here and sign up to the monthly SETsquared newsletter to keep up with news, events, opportunities and more.
Fast track your technology business