Last week we were all reflecting on a year since the first lockdown. Gosh, what a year it has been! I am sure everyone has their own reflections and personal experiences. I had given birth to my second son three weeks prior to that first lockdown, so I was quite happily nesting at home with my newborn, just watching what's going on in the world.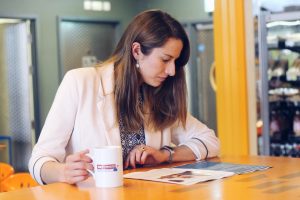 Now, being back at work a year later, I am observing a world that feels less anxious and uncertain. What I've noticed is that whilst entrepreneurs are not immune to the effects of the pandemic and economic downturn, it is in their nature to find the silver lining. That actually, troublesome times create perfect opportunities to innovate. At the recent launch of the Tech Nation Report 2021, CEO Gerard Grech reminded us about historical cycles of gloom and rebirth: Renaissance followed Dark Ages. Over the past year, we have noticed an increased interest and investment, especially in the sectors that are important to us as citizens of the world: cleantech, edtech and healthtech. The pandemic accelerated the pace of innovation in those areas beyond what was thought possible. 
Both healthtech and edtech benefitted from a huge boost in acceleration with education, health monitoring and management shifting online in a very short period of time.   
We have always had a strong healthtech cluster within SETsquared Bristol and in recent months there have been a number of successes to celebrate. Neuronostics, who enable faster and more accurate diagnosis of epilepsy, have secured £300k funding; while GenomeKey, who enable faster diagnosis of sepsis, have secured £192k. The investments will allow them to invest in their products and scale their teams.  
As the world is waking up to the climate emergency, we are also seeing more innovation in the cleantech space and the change can be seen wider across all sectors; everyone can find ways to be more environmentally friendly. Our two most recent impact success stories include Innovate UK investment into R&D of forest fires detection for our member, Tethir, and investment into Actuation Lab, who are rethinking industrial hardware to reduce the environmental impact of mechanised industries. 
The Tech Nation report also explored diversity issues within the tech sector. As you know, at SETsquared Bristol, we are very passionate about the subject and take pro-active steps to address imbalance. It is still disappointing to read that only 3% of all investments go to women-led businesses. At SETsquared Bristol it is 5% but still much lower than we'd like it to be! We will continue working on making a difference through programmes such as Enterprising Women 2.0 and Breakthrough Bursary. 
One final, positive note: investments into SETsquared Bristol members accounted for 10% of all investments in the South West in 2020. I would like to congratulate all of those startups who have managed to successfully fundraise during such tough times. Also, I want to congratulate those who have chosen not to raise funding and managed to successfully navigate this new virtual world and grow their revenues organically. It is an absolute pleasure and honour to be working with all of them and seeing the difference they all make. So dear readers, if any of you fancy a bit of positivity and inspiration, please check out our news pages and social media feeds to see what SETsquared companies have been up to! 
Find out out more about SETsquared services here. Ready to grow your business? Apply online.
Recent News, Blogs and Stories
Fast track your technology business