Line up of pitching companies announced for SETsquared Bristol's annual Tech-Xpo 2019
We are pleased to announce the full line up of companies that are pitching at SETsquared Tech-Xpo 2019. Actuation Lab, Bristol Pound, Data Cubed, ELEM Biotech, iXport, Maths with Parents, TableTiger, and Vitamica will pitch to an audience of academics, investors, business leaders, and public sector representatives at the invite-only showcase, with 18 companies also exhibiting at the event. The annual showcase will be held at Paintworks, Bristol, on 18th June 2019.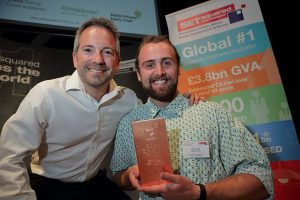 Technologies from a diverse range of sectors, including fintech, edtech, and healthtech will be pitching for investment at Tech-Xpo 2019, where delegates will vote for the Best Elevator Pitch. Companies that have previously won the accolade have gone on to celebrate great successes, including 2018's winner, LettUs Grow Founder, Charlie Guy, who has since secured £1 million investment to further their aeroponic farming technology.
Charlotte Bermingham of Vitamica, who will be pitching for the first time at Tech-Xpo 2019, said:
"We're looking forward to demonstrating our technology and pitching at Tech-Xpo. It's a great opportunity to network and meet potential investors, and we're currently fundraising for our second seed round. We're presenting our fast antibiotic test, which enables doctors to make informed decisions about antibiotic prescriptions, something that is evermore important with the growing global threat of antimicrobial resistance. We hope to make some good connections and show what our technology can do."
Chris Morton of ELEM Biotech said:
"We are very excited to attend Tech-Xpo this year and to present ELEM (and our Virtual Heart) to UK investors for the first time.  Tech-Xpo has a great reputation in the South West. For us, the fusion between tech-innovators and tech-investors makes it the place to be. More than just a show, we know things happen here for startups."
Other winners of Best Elevator Pitch include Interactive Scientific Founder, Becky Sage (2016), who was selected by Innovate UK as one of the top 15 Women in Innovation in the UK, Lisa Matthews, CEO of Our Canary, who was named in the Top 50 Women in Engineering in 2018, and Gareth Williams, founder of YellowDog, which has made its name as one of the region's hottest scale ups.
SETsquared Bristol Centre Director, Monika Radclyffe, said:
"As one of our largest events of the year, Tech-Xpo is a great opportunity for all exhibitors and pitchers to network with potential investors and clients. This year's brilliant line-up of pitchers boasts talent from a range of sectors, which is representative of Bristol's famously diverse tech scene. It will be one to watch."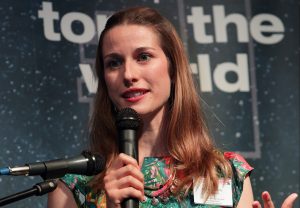 Tech-Xpo 2019 is sponsored by VWV, EY, Corrigan Accountants, and Research and Enterprise Development at University of Bristol. Those unable to attend can stay up to date with the pitches as they take place, and be the first to know who is crowned winner of 'Best Elevator Pitch 2019,' by following SETsquared Bristol on Twitter, @SETsquared_Br.
The event highlights will be shared on YouTube, and last year's film can be viewed below. You can find out more about this year's pitching companies below.
Information about pitching companies
Actuation Lab has developed an alternate to heavy hydraulic cylinders by employing an origami-inspired design and composite manufacturing technique to produce an actuator with the potential for greater power-per-kilogram than any prior art.
Bristol Pound is the UK's largest local currency. It aims to create a more resilient and sustainable independent business sector in Bristol, and in turn, a more inclusive local economy. It does this by keeping the money spent in Bristol Pounds in Bristol, helping to develop a local circular economy.
Data Cubed is a data lab and consultancy business that helps businesses to make quicker, smarter decisions, and ultimately to make or save more money, using data and AI.
ELEM Biotech is a spin-off from the Barcelona Supercomputer Centre. It develops biomedical modelling solutions to test medical treatments in preclinical phases. It shortens time-to-market, reduce business risks, and improves outcomes for patients by conducting medical experiments on supercomputers.
iXport is a technology company providing a turnkey solution to enable SME's to export globally, providing an easy to use, easy to set up, e-commerce platform specifically designed for exporting with technology to provide real-time freight, forex, and export documentation quotes, all under one platform.
Maths with Parents is an online platform that helps parents and children to love learning maths together at home. Maths with Parents works with primary schools to create a tailored package of support for the parents and children in every class.
TableTiger is an innovative combination of a hand-held tablet with the latest in mobile credit card reader technology. Developed for restaurants by a team with deep industry knowledge, customers can pay their bill quickly and simply, without an app or waiter.
Vitamica has developed and patented an optical technology that quickly informs prescribers whether an antibiotic will be effective against a bacterial infection. This is of vital importance as antibiotic resistance has made many infections untreatable, emphasising the importance of appropriate antibiotic selection.
For more information on SETsquared Bristol news, opportunities and events, sign up to receive the monthly newsletter.
Fast track your technology business