Mercia announced as new Investor in Residence service for SETsquared Bristol companies
We are pleased to announce Mercia Asset Management as the new Investor in Residence service for our member companies offering monthly one-to-one investment advice clinics starting in February.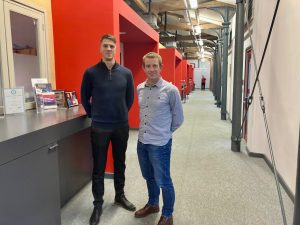 One of the UK's most active investors, Mercia is exclusively a UK domestic investor with a focus on regional businesses that are seeking venture, private equity or debt finance to scale or transition their businesses.
Previous SETsquared companies who have received investment from Mercia include Pertinax Pharma (Bristol), StaffCircle, i-Phyc and itoms.
Last December, Mercia set up their Bristol office at SETsquared Bristol in Engine Shed, providing a further opportunity for our member companies and wider ecosystem to get to know them and engage with their expertise.
Julian Dennard, Fund Principal for Mercia, said: "We are delighted to partner with SETsquared to offer our advice, support and expertise to the wide ecosystem of exciting early stage businesses based in Bristol and across the South West. We are excited to work closely with SETsquared on their diversity initiatives and inclusion agenda, something which particularly resonated with us in the partnership. Bristol and the South West is home to flourishing Life Sciences, CleanTech and DeepTech sectors, and we look forward to supporting entrepreneurs working across these and other exciting sectors."
Paul Forster, Community Manager at SETsquared Bristol, said: "It's a real privilege having Mercia based in the incubator and offering this service to our members. Whether our companies are looking to raise their Series A or keen to learn more about relationships between startups and investors, Mercia can provide invaluable advice."
SETsquared Bristol's specialist pro-bono services from our Advisers in Residence are an important cornerstone of our incubation programme. Companies can access regular one to one sessions across areas including finance, IP, law, product, technology and trade.
For more information on our Advisers in Residence visit this page.
Recent News, Blogs and Stories
Fast track your technology business