My almost 6-year long journey with SETsquared Bristol is coming to an end. It is time for me to move on with the next chapter of my career. However, I do hope that we can all stay in touch and that the SETsquared team will have me as a new mentor!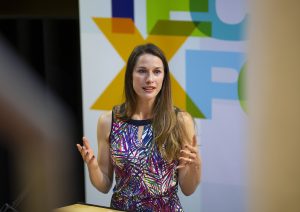 I will be forever grateful to Nick Sturge, who has given me the opportunity to step into his shoes back in 2016 to take over running of the incubator. I had just moved from London at that point and literally knew no one in the city. I embraced this opportunity and literally took every single meeting that came my way, as a chance to meet new people and build my network.  
When I joined SETsquared in February 2016 we had a tiny team and I shared the office with two Entrepreneurs in Residence that many of you know: Rick and Grev. All of their meetings were held in that one office. I developed an ability to switch off sounds and background conversations to focus on my work, but sometimes I listened (with permission!) and learnt. It was amazing to be able to hear about every single challenge that our member companies encountered, and occasionally to chip in with suggestions on how to solve it. This was a good start and something that all entrepreneurs can relate to – at the beginning you've got to do all the jobs in the business to truly understand it, to be able to later scale successfully. I have learnt so much from our Entrepreneurs in Residence, lessons learnt that I was able to apply over the years.  
As we grew the number of companies we supported and recruited a bigger team, my responsibilities evolved, and I became less involved in the day-to-day support of startups. However, I would never let go of supporting entrepreneurs directly. I continued to chair Business Review Panels, offered ad-hoc mentoring sessions and supported our companies with fundraising and investor connections. This was the part of the job that I have always loved the most. I feel truly privileged that all those entrepreneurs have put trust in me, opened up and shared their thoughts and their plans. It has been incredible to watch so many of them flourish and achieve incredible things.  
There are too many to mention individually, so I will just say – to all SETsquared entrepreneurs: thank you. It's been an honour to work with you. You have showed me what's possible with true grit, perseverance, hard work, determination. Yes, people say entrepreneurs get lucky, but I know you have worked very hard for that luck to happen. You spent hours and hours in sessions with Entrepreneurs in Residence to perfect that pitch to finally win that funding round; you went out of your way to build your networks at various events, when you probably just wanted to stay home with your family; you smashed that glass ceiling after hearing at least a hundred 'No's. You are all my inspiration and I hope we can stay in touch so I can continue following your journeys to success. 
As I said earlier, I came to Bristol six years ago without knowing even a single person. Now, I am surrounded by the vast network of supportive and ambitious professionals. Thank you, Bristol – for welcoming me and treating me like your own, you know you and your people are special! Even though my next career step will take me to other cities, I do intend to stay in touch and pop into Brizzle occasionally.  
And finally, thanks to my incredible team, current and past, within SETsquared and QUEST, as well as Engine Shed team and wider Enterprise Services at the University of Bristol. It's been a blast. I truly enjoyed every day of working with you. Onwards and upwards!  
For more information on SETsquared Bristol news, opportunities and events, sign up to receive the monthly newsletter.
Recent News, Blogs and Stories
Fast track your technology business