University of Bristol spinout Milbotix has announced an investment round to complete the development of its SmartSocks™ product line, which aims to help millions of people living with dementia, non-verbal autism and other conditions that affect communication. SmartSocks™ is being developed in collaboration with the UK Dementia Research Institute and University of Exeter Medical School.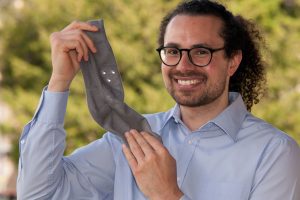 Milbotix, led by CEO Dr Zeke Steer, and CXO, Jacqui Arnold, joined SETsquared Bristol with our Breakthrough Bursary in January 2022.
Milbotix has since received grants worth over £1 million, including £900,000 from Innovate UK (contingent on the company raising aligned investment). It is now calling impact and medtech investors to invest £500,000 to match these grants, with £225,000 committed so far.
Milbotix is backed by Alzheimer's Society, the UK's leading dementia charity. According to Alzheimer's Society, there will be 1.6 million people with dementia in the UK by 2040, with one person developing dementia every three minutes. Dementia is thought to cost the UK £34.7 billion every year.
Angel investor Dean was inspired to invest in Milbotix after witnessing that his late mother, who had dementia, was becoming increasingly agitated and upset. He said:
"SmartSocks would have picked up when Mum was becoming agitated and would have helped in the early days of her illness by enabling Dad to deploy the distraction techniques we used to calm her. It would also have helped the hard-pressed care home staff to target their care to her needs and alerted them to her distress when she was alone in her room, enabling them to respond more quickly and help relieve her anxiety."
Agitation and aggression in dementia are often caused by unmanaged pain and anxiety. SmartSocks™ contain comfortable sensors that measure the wearer's sweat, pulse, temperature and motion. The socks work in conjunction with patent-pending artificial intelligence software and a mobile app that alerts carers to signs of distress.
Co-founder, Dr Zeke Steer, said: "We are seeking passionate, impact-oriented investors like Dean to help us revolutionise how dementia care is delivered. Investing in Milbotix offers the prospect of an attractive return whilst helping to address challenges arising from a globally ageing population.
"The grant awards, coupled with the increased SEIS allowance from April, means there has never been a better time to invest. Please get in touch if you would like to share our journey to revolutionise dementia care, globally."
Image credit to St Monica Trust
Fast track your technology business