SETsquared Bristol Director, Monika Radclyffe, will be speaking at Fireside Summit in September alongside leading experts in sustainability and technology.
Fireside Summit is an off-grid tech festival with a focus on startups hosted outside of Bath. The event takes place on 3 to 4 September 2019, and with no phone signal on site, attendees are encouraged to make real and valuable connections, learn new things, discuss technology without technology getting in the way, and be inspired to accelerate their startup.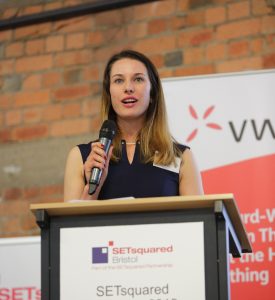 Monika will be speaking on the Keynote Stage on 3 September. Her talk, 'Startup Exit: with an end in mind' is aimed at entrepreneurs at any stage of their business, currently fundraising or thinking of fundraising for their startup. It will explore what an exit looks like, typical valuation methodologies, and how to always be prepared.
Following her keynote, Monika will be delivering a workshop on the same topic, which will cover options for proactive acquisitions that entrepreneurs can lead on.
Monika said:
"I am thrilled to be talking and hosting a workshop at Fireside Summit. In the world of technology, it can be hard to switch off. I'm looking forward to meeting with entrepreneurs who are fully engaged in accelerating their startups, without the distraction of other technologies. The event will be a brilliant opportunity to network and learn, and my keynote and workshop will hopefully provide valuable insights for entrepreneurs who are planning – or perhaps have not yet started planning – their exit strategy."
Fireside Summit is an ideal opportunity for entrepreneurs looking to immerse themselves in interactive sessions like workshops, coaching, training and personal development classes. Tickets for Fireside Summit are available here, with discounts available for women in tech, and limited free tickets for SETsquared Bristol members.
For more information on SETsquared Bristol news, opportunities and events, sign up to receive the monthly newsletter.
Recent News, Blogs and Stories
Fast track your technology business