HealthTech is a hot topic. Lack of technology has long been a frustration for healthcare professionals, but progress in the artificial intelligence (AI), blockchain, voice activation, and virtual reality (VR) industries are generating promising results in HealthTech, leading to streamlined operations, lowered costs, and increased quality of care for patients.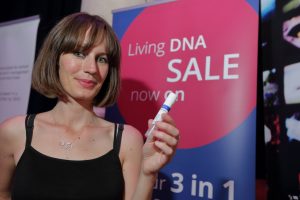 From telemonitoring to DNA testing, or fitness and wellbeing apps, it's a booming industry, and one that is flourishing in Bristol, with a growing cluster taking form in SETsquared Bristol's incubation programme.
SETsquared recognises the need for more businesses that can increase the capabilities of the health sector, which is why we are nurturing our HealthTech cluster that boasts alumni such as Ziylo, the revolutionary glucose-binding diabetes treatment that was acquired by Novo Nordisk in a deal worth up to $800m in 2018. Here, we take a look at a cross-section of HealthTech emerging from the Bristol incubator.
Forth
Forth is an innovative biometrics tracking platform which helps people navigate their way to better health, by measuring and tracking over 50 key internal biomarkers integral to good health. Biomarker results are reported on a dashboard that converts healthcare data into intuitive graphics. Users can track how their biomarkers are improving with changes in their lifestyle, and pick up helpful hints and tips on how to improve.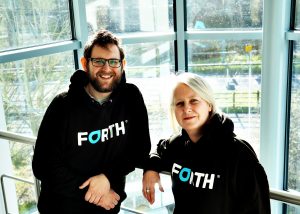 Sarah Bolt, Co-Founder of Forth said:
"Chris Baines and I founded the company in 2016. Both of us had worked in healthcare for over a decade so we had in-depth knowledge of how the healthcare landscape was changing and how people wanted to have a much deeper understanding about their own health, rather than leaving it at the hands of primary care doctors.
"Our aim is to provide a safe, supportive, and meaningful service to help nudge people towards better health behaviours. We believe the first step to positive behaviour change is understanding. By providing people with fast and convenient access to biomarker testing, coupled with an easy-to-understand results dashboard, we drive a deeper understanding of your own health."
But whilst Chris and Sarah had the knowledge and skills to build their service offer, they needed external funding to roll it out to the market. They decided to follow the crowdfunding route, followed by private investment.
Sarah continued:
"For Forth, another benefit of being a SETsquared member is sharing our experiences with others going through the same journey. For me, as a female founder, it's good to be part of the SETsquared Women's Founders Forum. Although female entrepreneurship is growing, we're still vastly outnumbered by our male counterparts, and I've yet to present to a female angel investor."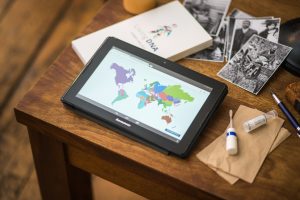 Living DNA
Living DNA is designed to help people enjoy a more enriched life through understanding their genetics, and how those genes influence their day to day activity. From a simple mouth swab, users receive personalised reports and understandings based on their comprehensive genetic history.
Co-Founder, David Nicholson, said:
"For us, joining SETsquared Bristol was about building relationships with other people in similar sectors and the wider business community. We're really enjoying all that the programme brings, and the extra expertise that keep us focused on our path of delivering value to users."
Vitamica
Vitamica tackles one of the biggest global challenges – antimicrobial resistance. When a doctor chooses which antibiotic to prescribe, they have to make a guess about which will be effective, as the bacteria in the infection may be resistant to some antibiotics. Getting this wrong can have severe consequences for the patient, and the over prescription of inappropriate antibiotics leads to higher resistance rates. However, there is no current way to help doctors make this decision at the point of prescribing, as tests to determine which antibiotics will work or not currently take over two days.
Vitamica has developed a new test to determine effective antibiotics that takes just two hours. It is based on a unique optical technique developed at the University of Bristol that can determine whether individual bacteria are alive or dead in seconds, therefore quickly registering if an antibiotic has successfully treated the bacteria. Vitamica was set up with the aim of taking this technology into healthcare to enable more informed antibiotic prescriptions and, as a result, better patient treatment.
Vitamica's CTO, Charlotte Bermingham, won Best Elevator Pitch at SETsquared Bristol's Tech-Xpo 2019. She said:
"We joined SETsquared because of the fantastic networking that it offers, and for the workshops and opportunities for advice from experienced entrepreneurs. We are a growing team with various backgrounds and experience levels, so we have been able to gain skills in the areas we each need through the workshops and Entrepreneur-in-Residence (EiR) meetings.
"We have also attended some SETsquared events at which we have made good connections. A particular highlight has been the Tech-Xpo event, where we met interested investors and came away with the trophy for best pitch! The tailored nature of the advice from SETsquared Bristol, such as being able to organise an EiR session about pretty much anything, suits us well as we develop and find new areas that we want to know more about or brush up on."
If you have a HealthTech company that would benefit from the SETsquared business incubation programme, apply today and join the impressive cluster of business growing their HealthTech in Bristol.
Find out more about SETsquared members here and sign up to the monthly newsletter to get SETsquared Bristol news direct to your inbox.
Recent News, Blogs and Stories
Fast track your technology business