University of Bristol researchers, iCOMAT have been announced as winners of the New Enterprise Fund, and awarded with the top prize – a £10,000 backing fund to help develop their composite manufacturing design company. Competition sponsor, SETsquared Bristol, was delighted to award two funded places on its business incubation programme to runners up: Actuation Lab and OptiFit.
The New Enterprise Competition is the University of Bristol's annual business start-up competition, offering students, staff, and alumni the chance to pitch for a share of over £40,000 to commercialise their ideas, and equip early-stage entrepreneurs with a launch pad for success. This year's winners were announced during an awards ceremony at the Centre for Innovation and Entrepreneurship on 8th November from 10 shortlisted growth-stage businesses.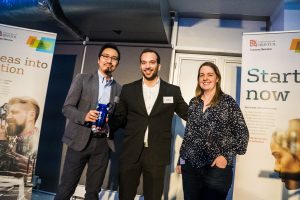 Top prize winners, iCOMAT, have been working for 8 years to revolutionise manufacturing design. Continuous Tow Steering (CTS) is the world's first composites manufacturing process that can place carbon fibre tapes (tows) along curved paths without generating defects. As a result, the use of raw materials is reduced, improving cost and productivity.
iCOMAT undertook the SETsquared ICURe innovation to commercialisation programme in late 2017, and established good industry and market awareness, attracting support to form a spinout company to market the technology. iCOMAT has since secured a £290k grant-funded project with InnovateUK, and is now looking to secure £90k of matched seed funding to execute the first stage of their business plan.
Runners up, Actuation Lab, has reinvented the traditional fluid driven linear actuator (used in machine tools and industrial machinery), instead using complex origami-inspired structures to create high-powered, single material and single part, artificial muscles. Their patentable design delivers market leading power-to-weight performance, whilst allowing for truly customisable manufacture through combining 3D printing with an innovative online tool.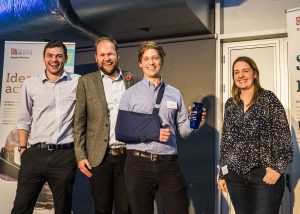 OptiFit were runners up for their product that allows detection of vital signs without direct contact through the use of a video feed, such as heart rate level. Initially targeting the fitness industry, OptiFit's primary goal is for their technology to become implemented by large gym equipment manufacturers, and to become commonplace in gyms worldwide. Their long-term vision is to be leading in the large field of contactless vital sign technology.
Monika Radclyffe, Centre Director of SETsquared Bristol commented:
"We were thrilled to support the New Enterprise Competition again this year. It's always exciting to discover new technologies emerging from university research. This year's winners were selected on the quality and viability of their innovative tech ideas, that have the potential to scale widely. We're looking forward to supporting these promising start-ups, as they go on to commercialise and grow their businesses through the SETsquared programme, as with previous winners."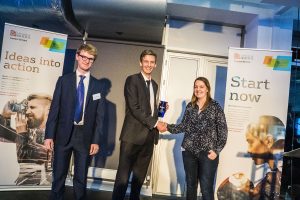 Companies recognised in the New Enterprise Competition often go on to achieve great things. The awards and key note speech were presented by SETsquared member and founder of Snap Tech, Jenny Griffiths, who has recently been named one of Forbes' Top 50 Women in Tech in Europe. In 2009, Jenny won the university competition with her cutting-edge AI and machine learning visual search tool.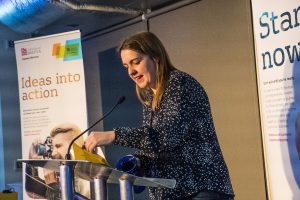 Last year's winner, Metasonics, was awarded 6 months of SETsquared Bristol membership, as well as £10,000 worth of funding to bring its revolutionary sound technology to a mass market. They have recently been selected as one of Hello Tomorrow's Top 500 deep tech start-ups. Complia, Commended Finalist of 2017, recently won the University of Bristol's Impact Acceleration Account (IAA) award of £17,000 which they will use for R&D and to complete their prototype.
Recent News, Blogs and Stories
Fast track your technology business