To help aspiring entrepreneurs and future SETsquared Bristol members, we are showcasing a number of case studies exploring the different routes to joining our incubation programme, as well as the diversity of tech amongst our members.
Complia is currently one of our earliest stage members, that are developing a soft robotics product at the University of Bristol and Bristol Robotics Laboratory. We had a chat with Complia's co-founder, Gabor Soter.
Who is Complia?
Complia is a Bristol-based music technology start-up that creates novel tactile interfaces for electronic music. It was originally established by Aaron Fishman, Professor Jonathan Rossiter and myself at the University of Bristol, combining our expertise in soft tactile interfaces and our shared passion for music. Our business was selected as a Commended Finalist at the University's New Enterprise Competition in 2017, and we were pleased to be awarded with a year-long residential start-up membership at SETsquared Bristol.
What makes your product unique?
Our flagship product is a new music controller combining hardware and software, that allows musicians to create electronic music in a completely new way. The interfaces are unique as they can be used with existing instruments in a more tactile and natural way. Instead of using hard, discrete components, such as knobs, buttons, sliders, or conventional touchpads, users can change their music by interacting with a soft silicone surface. The device connects with the user's music production software, allowing them to continuously adjust all the variables of their electronic sounds through intuitive hand movements into and on the device, such as pushes, slides, and twists.
Users can express their emotions through music more physically using our device, interpreting it in a way that feels very natural. For example, when you're playing the guitar you can pick the strings hard if you're angry, but you can't do this with traditional keyboards as they are binary. The unique selling point of our soft controller is that you can connect it to your existing keyboards and augment their capabilities.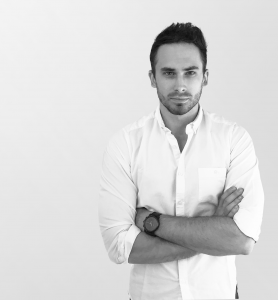 What stage are you at with developing your business?
We currently have a working prototype of our first product, a midi controller for digital instruments, and are in the process of creating the first version, which has a nice design and is working well. We're engaging with professional music artists to help with the development process. After interviewing musicians, we've found out that they do not want to have a completely new, standalone instrument, but prefer to use our devices as add-ons to their existing instruments. The product will first be targeted towards professional music artists, with a more customised and personalised product.
Soft, tactile interfaces are still in their infancy, therefore research and development could open-up new business opportunities for Complia, such as licensing new technologies for companies in the virtual reality, gaming, or healthcare markets. The business review panel process at SETsquared helped us decide to focus on our passion, the music industry, for now.
How else has SETsquared helped you?
It's been just amazing! Our membership started in January 2018 and we have a desk space in SETsquared's shared office at Engine Shed. It's a great place with a vibrant atmosphere, where you can meet many founders who are going through the same path as you. We came here as three engineers in the team, with no prior business experience, and we had a plan that turned out to be horrible! From SETsquared, we received general advice from experienced Entrepreneurs-in-Residence who have helped with our business plan, as well as further advice and coaching from our SETsquared mentor. We've also taken advantage of their workshops and advice clinics, focusing on specific expertise, such as manufacturing and intellectual property support. Our business is early-stage, so it's been all about finding the right way to do what we want to do, working out the best and most realistic path, and developing the roadmap to execute it.
Have you met any collaborators or potential partners so far?
We're in the process of meeting musicians and early adopters that can help with the product development. We're also partnering with a design company, Amalgam Modelmaking, that we met through SETsquared, to create the first version of the midi controller. Building relationships is really important in business, and we've found we can do this much faster with the help of SETsquared.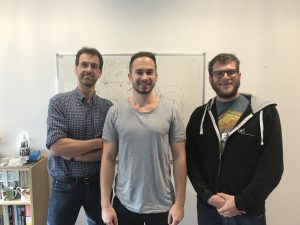 What experience does your team bring to Complia? 
We have three founders: Professor Jonathan Rossiter is a highly experienced roboticist, he is my PhD supervisor and is one of the Royal Academy of Engineering Chairs in Emerging Technologies and Professor of Robotics at the University of Bristol; Aaron Fishman is a third year PhD student in the soft robotics group, and was previously a software engineer at a Silicon Valley start-up; I'm currently in my third year of PhD studies in engineering mathematics at the University of Bristol and Softlab , which is a soft robotics group using soft materials to upgrade robotics. Aaron and I are also musicians in our spare time and share a passion for music. I was six years old when I started to play piano and later went to music school. After six years of classical music, I learnt to play guitar and was in a few rock bands back in Hungary. I now make electronic music in my spare time, and find that it's difficult to perform electronic music live: this is what inspired our solution.
Other than the New Enterprise Competition, have you won any awards or accreditations?
We recently won the University of Bristol's Impact Acceleration Account (IAA) award of £17K, which we're using to finish the prototype models and R&D. We're also getting a full-time research assistant for three months to help develop the product. We also received seed funding in the first few rounds of the New Enterprise Competition and used the money to create the hardware prototypes. It was useful to get the initial funding from the University to create a tangible, physical product that we could demo. We then created a business plan and a few other prototypes.
In the final round, it was interesting because, deep down, I didn't want to win any money, because I didn't really know what to do with it. But joining SETsquared helped us to re-build the plan, so I was able to reach the position where I knew that I needed money, and now have a solid plan for what to do with it. Following our SETsquared business review panel, we created a good executable plan that made sense and was evidenced. This was the point that we applied for money and got the IAA award. It's about knowing whether your business is ready for funding and you become more credible when you can recognise that.
What other advice would you give to other aspiring founders?
Be honest and talk about your problems, and there will be people who can help solve them. Don't be afraid to fail – learn from your failures and fail fast. When we first started at SETsquared, we had a plan that turned out to be delusional and not very realistic. Lose the ego – be open to going back to square one if needs be, to build a plan that's executable.
What's next for Complia?
During the next few months, we're looking for professional music artists in the UK who can work with us on the configuration and development process. After that, we're going to develop our first product for the Frankfurt Musikmesse in April – a trade show that we're exhibiting at. We would like to focus on the professional electronic musical instrument market: we're not aiming to have a mass product, but a more personalised, customised product. The next six months for us is all about market exploration, focusing on the numbers, and building on our plan.
Discover more of the companies SETsquared incubate here and sign up to the monthly SETsquared newsletter to keep up with news, events, opportunities and more.
Fast track your technology business