Our alumni member, Neighbourly, the community investment and engagement platform, is moving into our SETsquared Bristol home, Engine Shed, following another successful funding round of £1.6 million led by Guinness Ventures. This latest funding round takes the total investment raised to date by the company to £8m ($10m).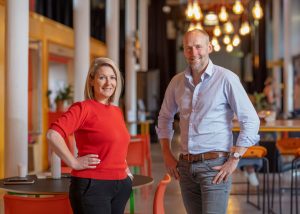 The investment will help further expand the Neighbourly team and accelerate both brand and product development at a critical time when businesses are increasingly needing to deliver on ESG objectives as part of their overall strategy.
Employing 80 people, Neighbourly was set up in 2014 as the first solution of its kind, with the aim of connecting businesses with local vetted good causes across the UK and Ireland to make a positive and measurable impact in communities through the donation of volunteer time, financial support and surplus products. 
The platform supports over 20,000 local charities and community causes and partners with businesses including M&S, Lidl, Sainsbury's, RSA Insurance, B&Q, Samsung and Virgin Media 02, and most recently announced its partnership with Getir on the rollout of their product surplus redistribution programme. 
The move to Engine Shed marks a return to where it all began for Neighbourly; as a startup on SETsquared Bristol's tech incubation programme. 
Steve Butterworth, CEO at Neighbourly (pictured right alongside Zoe Colosimo, COO) said:  
"We're delighted to be returning to Engine Shed as our new base. It's a dynamic and exciting space where the team can grow and connect as we adapt to new ways of working. The move puts us at the heart of innovation in the South West region, amongst other startup and scaleup tech businesses and entrepreneurs in the tech for good space.  
The new investment will enable us to reach more businesses to help them develop and deliver their social and environmental programmes, and benefit many more local communities." 
If you are interested in office space for your team at Engine Shed, please find out more here.
Fast track your technology business