Neuronostics, a SETsquared Bristol member, is one of four finalists for the Nature Spinoff Prize 2021. The finalists were chosen for their potential to translate world-leading scientific research into products and services that would have lasting impact on society.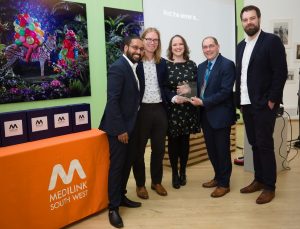 Neuronostics was co-founded by Professor John Terry and Dr Wessel Woldman in 2018. Since that time, the team have raised over £1.5M in grant funding, as well as an equity investment this year of £300K. This has enabled them to grow the team to 10 staff and they are now based at the Engine Shed in Bristol, as part of the SETsquared Bristol tech incubator.
Neuronostics technology analyses clinical data (such as EEG) used routinely for the diagnosis of conditions such as epilepsy. It transforms these data into computer representations of the brain. From these computer models, the ease with which seizures can occur is calculated. This informs Neuronostics' patented #BioEP seizure risk marker.
In contrast to the current clinical pathway, which is reliant on the clinical observation of symptoms which can take months or years, Neuronostics' markers can be calculated in close to real time. The company are currently developing a software platform to enable neurology centres globally to take advantage of their suite of digital tools.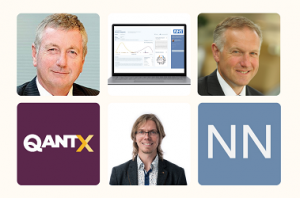 Professor Terry commented after the announcement "It is amazing to see the hard work of our team recognised in this way by Nature.
To be highlighted as one to watch and into the final four of this global competition is a fantastic endorsement of both our research and our business plan.
It inspires us to work even harder to ensure that our research is translated into tools that benefit people with epilepsy and other neurological conditions."
Monika Radclyffe, SETsquared Bristol Centre Director said: "Neuronostics is working towards making a real impact on the lives of people with epilepsy; it is great to see their recognition in this global competition for excellence in research commercialisation."
The Spinoff Prize, sponsored by Merck, attracted over 150 applications from around the world. A panel of global experts selected the four finalists on the basis of several key criteria. These included the quality of the underpinning science, the significance of the problem the company is seeking to address, a well-developed business plan, and the quality of technical and commercial leadership.
Neuronostics will now go forward to the grand final on July 12th which is incorporated into the 2021 Future Insight Days congress. The winning spin-out will receive a grant of £25,000 to accelerate their research and development.
Discover more of the companies SETsquared incubate here and sign up to the monthly SETsquared newsletter to keep up with news, events, opportunities and more.
Fast track your technology business