Bio-sensing pioneer Rosa Biotech has secured £415,000 from angel investors and announced plans to accelerate development of its bio-sensing technology, designed to enable cost effective, early-stage screening of a range of life-threatening diseases.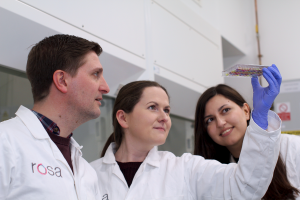 The University of Bristol healthtech spinout joined SETsquared Bristol in February 2023. It is initially targeting the early identification of non-alcoholic fatty liver disease (NAFL) which, if left untreated can develop into steatohepatitis (NASH) leading to liver failure. The Western world has experienced a 100% increase in NASH cases during the last 30 years and this trend is expected to accelerate in the coming decades.
Rosa's Pandra platform combines patented synthetic biology with sophisticated machine learning, and is particularly suited to the detection at scale of a range of life-threatening diseases with high accuracy in patient blood samples. The company is currently collaborating with scientists, clinicians and industry to further develop and validate Pandra and bring its first tests into the clinic.
The £415,000 seed+ investment comes from a group of experienced technology and life sciences entrepreneurs, and builds upon substantial investment that has already been deployed by the business. It will allow Rosa to accelerate pre-clinical NAFLD/NASH trials, and provides a bridge to Series A funding, planned for later this year, targeting full commercialisation of Rosa's NAFLD/NASH offering.
The pre-clinical evaluations will use samples from The National Institute for Health and Care Research BioResource, the British government's major funder of clinical, public health, social care and translational research, and University Hospitals of Coventry and Warwick NHS Trust.
Dr Mark Street-Docherty, CEO of Rosa Biotech, said:
"The prevalence of NAFLD is increasing at an alarming rate, placing an ever growing burden on specialist healthcare resources. With over 100 therapeutic interventions in clinical development, it's critical that healthcare providers can cost effectively screen for early signs of this condition, enabling treatment and lifestyle changes to occur early enough to prevent permanent liver damage and failure.
With Series A funding expected to follow later in the year, this is an incredibly exciting time for our business. Pandra technology is moving ever closer to commercialisation, and will enable Rosa Biotech to save lives and help protect vital healthcare infrastructure."
Fast track your technology business