Thirteen pioneering tech and digital startups from the South West and Wales pitched to investors for between £150,000 and £2m at the Silicon Gorge final this May, including five SETsquared Bristol companies.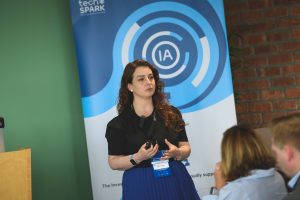 Silicon Gorge is a major investment event in the South West, with companies curated after a three-stage selection process by experienced network and investor judges, as part of the Investment Activator Programme, led by regional tech cluster organisation techSPARK.
Among our pitching companies were healthtech startups, Ferryx, that makes bacterial products capable of functioning during active disease, and Radii Devices that develop technology to improve the fit of medical devices that connect with the skin.
Other SETsquared members to pitch were talent company Gritty Talent, wearable biomechanical tech startup, Spatial Cortex and Enterprising Women member Expordite, that offers software for export compliance.
Some of the region's most successful tech scaleup companies have come through Silicon Gorge including KETS Quantum Security, LettUs Grow, Neighbourly and OKKO Health.
Silicon Gorge will reopen for the 2024 edition in January. To be alerted to applications opening contact Abby Frear.
If you are looking for opportunities to invest in novel tech startups, please get in touch.
About the Investor Activator Programme: 
The Investment Activator Programme helps catalyse investment into fast-growing startups in the West of England. The Investment Activator Programme is run by TechSPARK and is kindly sponsored by TLT LLP, delaware, Smith & Williamson, West of England Combined Authority, UWE, Sanderson, Rocketmakers and Engine Shed. 
Photography credit to Jon Craig
Recent News, Blogs and Stories
Fast track your technology business