Rugged composite hardware company Actuation Lab awarded £300k InnovateUK funding to support spin-out
To perform "actuation" is to put something into motion. SETsquared Bristol virtual member, Actuation Lab, a company born in the University of Bristol's Composite Institute (ACCIS), is now in motion having received a £300k grant to spin-out of the University.
SETsquared Bristol member Actuation Lab is addressing the problems of high servicing requirements and poor longevity of current actuators in the Marine, Mining and Offshore Industries. The team went back to first principals to invent a new family of actuators designed specifically to survive in the world's harshest conditions. The technology does not corrode, eliminates servicing requirements and is 1/3 of the weight of the current state-of-the-art.
Co-founders Dr Simon Bates, Dr Michael Dicker and Dr Tom-Llewellyn Jones previously completed PhDs in the ACCIS Centre for Doctoral Training and invented the revolutionary Callimorph® actuator after taking on roles as researchers at the University.
Things started to move forward for the trio when they were awarded 12 months SETsquared membership in December 2018 after pitching at the University of Bristol's New Enterprise Competition. Simon Bates was then awarded an InnovateUK Innovation to Commercialisation of University Research (ICURe) grant to explore the potential of the new technology with wider industry.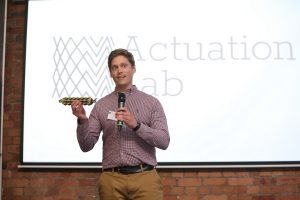 Simon Bates, CEO at Actuation Lab said:
"Alongside private investment, this grant will be instrumental for us to take what is a lab-proven technology through to products ready for industrial trials."
"Up to this point we have received fantastic support from the University and the SETsquared network. Bristol is an amazing hub for emerging technologies, and we are excited to move to the National Composites Centre to begin tackling the next stage."
The National Composites Centre (NCC) is a world-class research centre, where companies of any size and across industry sectors, can access cutting-edge technology and specialist composite material engineers.
Leah Rider, Technology Programme Manager for SME Projects at the NCC, said: "The NCC is thrilled to work alongside and host Actuation Lab in one of our flexible workshop spaces. Being co-located will provide Actuation Lab with a wealth of composite materials and process expertise right on their doorstep as and when they need it."
Find out more about how SETsquared Bristol has helped to accelerate Actuation Lab in this video:
Discover more of the companies SETsquared incubate here and sign up to the monthly SETsquared newsletter to keep up with news, events, opportunities and more.
Recent News, Blogs and Stories
Fast track your technology business