We are thrilled that Monika Radclyffe, Centre Director at SETsquared Bristol, won the Innovation Champion Award at the Launch: Great West Awards last night. The award recognises her key role in fostering innovative activity in the region, through supporting commercialisation and business acceleration.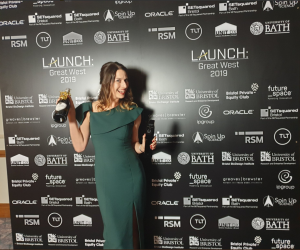 The inaugural Launch: Great West Awards celebrate academic expertise and innovation excellence in the South West, an area thriving in activity across Life Sciences, Advanced Engineering, and Quantum Technology. Since joining SETsquared Bristol in 2016, Monika has worked with over 130 technology and science companies across 37 sectors and helped them raise over £394 million in investment between 2015-18.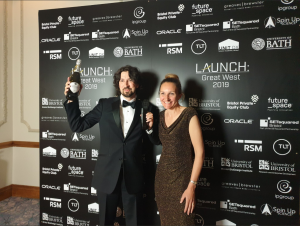 SETsquared Bristol alumni members Ultrahaptics won the Rocket Fuel award as a result of their ambitious growth and market expansion, and Ziylo/Carbometrics were awarded Deal of the Year for their acquisition worth a potential $800 million.
Others shortlisted for the Innovation Award included Nick Sturge, Engine Shed Director, who previously ran the Global No1 SETsquared Bristol incubator prior to Monika, as well as our University of Bristol colleagues: Annela Seddon, Jaci Barnett, and Jane Garrett.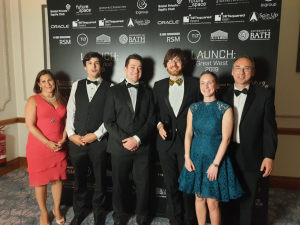 Monika commented:
"I am delighted to receive this award and would like to thank Launch: Great West team and the judges, for the recognition! These awards are testament to Bristol's burgeoning science and technology scene, and the supportive community that helps it to thrive. I'm very happy to be a part of it."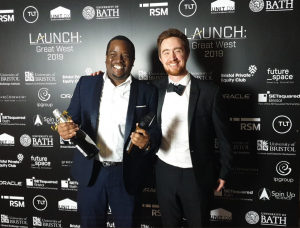 SETsquared Bristol were delighted to sponsor the Rising Star award, alongside Research and Enterprise Development at University of Bristol, which was scooped up by CrytoSeek. Ceremony attendees voted microbial testing startup, FluoretiQ as winner of The People's Choice Award.
You can find the full list of award winners by visiting Launch: Great West.
For more information on SETsquared Bristol news, opportunities and events, sign up to receive the monthly newsletter.
Recent News, Blogs and Stories
Fast track your technology business