SETsquared Bristol member, Actuation Lab, is rethinking industrial hardware to increase the reliability and reduce the environmental impact of mechanised industries. The company was spun out from the University of Bristol in 2019 by three engineering academics who had the drive to commercialise their mechanical innovation, the Callimorph® actuator. The Callimorph® is a device that is designed to keep machines moving without succumbing to corrosion, thus preventing the crippling costs associated with unplanned downtime in the energy, marine and mining industries.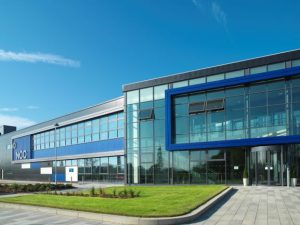 Following a significant recent investment, the award-winning company has taken up residence at Bristol's National Composites Centre (NCC). The NCC provides access to some of the most advanced composite manufacturing capabilities in the world, so this move will significantly bolster Actuation Lab's R&D activities and foster an exciting stage of business development.
Simon Bates, CEO at Actuation Lab said:
"The NCC is absolutely the right place for Actuation Lab to live and grow from for the next 18 months. As well as having our own secure lab space on site, the NCC have partnered with us on a pivotal Innovate UK funded project, which will see our Callimorph® actuator rapidly progress towards a marketable product."
Leah Rider, Head of SME delivery at the NCC commented:
"We are delighted to have Actuation Lab here at the NCC, and we are working with them to provide facilities they need to support them at this important time in their development. SMEs are such an important part of the UK industry, and we want to help as many as possible take advantage of the many benefits composite materials can offer, including giving them the support to test and develop their innovations on-site at our Bristol facility."
The investment and NCC move follows what has been a successful year for Actuation Lab. In 2020, the company was awarded £100k of equity free funding and TechX accelerator support from the OGTC, Aberdeen. This programme immersed the founding team in the Energy Industry and led to Actuation Lab winning a SBRI R&D Contract to explore how the company's technology could be applied to significantly reduce greenhouse gas emissions from industrial processes.
In February this year, the founders also welcomed Dr Steve Kitson to the board, appointing their long-supporting mentor as Chair. Steve has a wealth of experience in aiding technology companies to achieve their potential, and as a fellow technology pioneer, this appointment helps cement Actuation Lab's reputation as a company to watch in the deep-tech hardware space.
Actuation Lab is now hiring.
Recent News, Blogs and Stories
Fast track your technology business