Duel case study: Helping purpose and mission led brands to build a movement of advocates
To help our aspiring entrepreneurs and future SETsquared Bristol members, we showcase member and alumni case studies demonstrating the breadth of tech at SETsquared Bristol and what it takes to achieve success.
We had a chat with Duel Founder and Managing Director, Paul Archer …
Duel Key Facts
Start date:  December 2016
Market sector: Marketing/branding
Location:  Bristol
Number of employees: 15
Amount of investment raised: £1.8 million
Company status: Scaling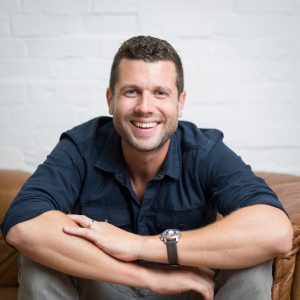 What does Duel do?
Duel specialises in brand advocacy. We help purpose and mission led brands to build a movement of advocates. This means that we help brands figure out who their passionate advocates are -customers, ambassadors and employees – and help them engage and partner with them, and nurture relationships so that they can use those people as a tool to grow organically. This creates long-term organic growth, versus the short-term growth that they would normally be focussing on by buying ads.
Brands can use Duel's SaaS advocate relationship management platform to easily build programs for their advocates in the form of customer membership clubs, large scale ambassador or employee advocacy programs. Advocates can interact by completing activities, challenges and purchases, as well as receiving rewards, discounts and exclusive benefits through the club powered by Duel.
In what ways does Duel help businesses nurture relationships with brand advocates?
We do a lot of consultancy and support around the overarching strategy design piece. The software is really powerful but it's useless without a really clear strategy. This area of marketing is very cutting edge, and there's not a huge amount of knowledge around it. We've done this for hundreds of brands, for companies like Topshop and Marks and Spencer. Those strategies are powered by our software which is broad technology for powering and nurturing those relationships with advocates.
We power advocacy through a loyalty program. Consumer businesses' loyalty programs are very dated and haven't really innovated in the past 20 years. Our software allows brands to scale that type of program and give it ten different dimensions, where you can reward people for what they do, not just what they buy. They can be rewarded with tiers, exclusive membership and VIP engagements, rather than just money off as previously done, which creates a much deeper sense of connection between the person and the brand, but also allows you to really use this as a channel to grow.
Why is word-of-mouth the most powerful marketing methodology?
Word-of-mouth growth is exponential, whereas paid advertising growth is linear. If you look at the greatest brands in the world, they have all grown to where they are through brand love; their advocates talking about it, supporting them and promoting them to everyone that they know.
Each of those individual ambassadors has the ability to reach millions of people with a single device in a matter of seconds, far faster than any advert can.
The secret to exponential growth is figuring out how to build a brand or product that people want to talk about, and then arming those people with the right story to tell and then recognising, rewarding and celebrating them for it. Getting those people to talk more about you is the hard bit. There are two prongs to that: one is to bring them closer to the brand, to educate them and to talk about the brand's narrative values and purpose, so that that person will embrace it and take it up on their own. The next is to give them the means to then talk about it as much as they possibly can. When you've actually nailed the two of those you get a double benefit – that person will tell everyone they know, but they will also buy again and again.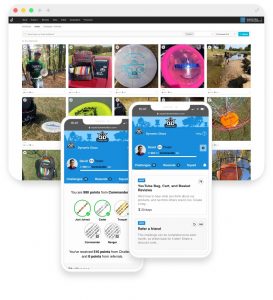 How did SETsquared Bristol help you?
We entered SETsquared Bristol through our first business, the Dare Devil Project app, which Duel grew out of. We heard about the incubator through the Pervasive Media Studio and we were based at Engine Shed on the Webstart Accelerator programme. I applied to SETsquared for the knowledge; I had no idea what I needed to do to build a technology company. I've learnt a huge amount since then, partly due to SETsquared and the mentorship I received. But I've still made many mistakes along the way!
The support we had from the Entrepreneurs-in-Residence was pretty awesome, the regular checking in and learning was really helpful. These guys had some mega experience under their belts as to how to build and grow technology businesses; from going to market, testing, iterating, from B2B sales and enterprise sales, to fundraising, that allowed us to get to the point where we are now and to develop my own personal learning.
Tell me about Duel's growth journey so far?
The new platform, which was completely rebuilt from scratch, came into beta in autumn 2019, and was released in March 2020. We took it to market after coming out of a closed beta with a small number of brands, which went well, and it's been very rapid growth since then. We are solving quite a big problem that a lot of brands have and even for an enterprise sale, with a five or six-month sales cycle, we still did about five X growth last year.
We're expecting to have a similar growth trajectory this year in terms of revenue. We're fortunate to work with about 20 to 25 brands all over the world, from brands worth £100 million in the US and some of the biggest outdoor brands in the UK, as well as a large number of purpose-led B Corps that have a clear purpose that people can get behind. We specialise in galvanising a movement of passionate people around purpose and they're the kind of brands that we want to work with work with.
What is the ethos behind the business?
We believe that there's a clear movement, where companies that care about people and the environment, are becoming the most profitable businesses. We're on a mission as a company to be able to prove that these purpose-led brands are the most profitable and are growing the fastest because of organic growth, as people want to talk about them. To fulfil that mission, we have very clear methodology to help brands figure out how they can budget and put the numbers behind word-of-mouth marketing, so they can get a strategy that works. And they can invest in it, just like they can invest in buying adverts.
Arming companies with ways of building brands is longer term and better for the world, better for people, and benefits the environment. Duel has invested in that exact same ethos in the way that we're developing and are in the process of becoming a B Corp ourselves. We take careful consideration as to whether each brand is one we want to support, or whether we will have enough influence to be able to steer them towards the right moral direction.
Duel's £1.8 million investment raise in October 2020 was part funded by the University of Bristol's Enterprise Fund. How did you hear about the Fund, and do you have any advice to other startups on accessing these types of funds?
We learnt about the fund through SETsquared and Webstart. I've done funding rounds that have been successful and some that have completely fallen apart, so I've seen both sides of it. Generally speaking, these particular pots are harder to get, but the credibility that you gain from the backing of someone like the University of Bristol helps immensely with other conversations and leads, so it's worth it. These funds are also heavily influenced by other investors. We had a share with an institutional investor that led the round, so by following that, it made it much easier because terms are set by other parties.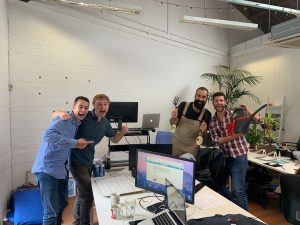 What are you most proud of?
Probably my team, we've had the same amazing and talented team for 18 months. Naio Tsarouchis is my Co-founder, he's the beating heart of what we do, leading the tech. All of our engineering team is in Bristol and the sales and marketing team is in London. They are the building blocks of foundation that I'm proud to build upon. Throughout Covid we've managed to protect everyone's jobs. We did manage to grow quite considerably last year, but at the same time we lost 30-40% of our revenue and had to crawl it back which was really hard. Fortunately, Q1 and Q4 were pretty sizable, and we managed to overcome that. This same team has held each other together throughout. I'm really excited to grow the team now, we'll probably double it in the next year.
If you could do one thing differently whilst building the business, what would that be?
The learning that you get from developing a product and bringing it to market is huge, but actually the discipline of testing and iterating to get the product right before you build it, is the hardest part. I've messed this up multiple times with two product failures to get to a product that really resonates. I'd recommend people knowing when to pull out, rather than continuously flogging it.
The first time we talked to people to understand their problems, we thought we had a solution. And we took it to people and found they didn't buy it. The second time we did it we spent the best part of a year consulting, sometimes for free, to help them with their brand advocacy and organic growth strategy. And all the while we were getting a lot of deep insight into how they operated and from there we were able to build the product that we really should have built previously. So anytime you can get exposure to companies and how they operate, watching them do it is essential. What they say isn't necessarily going to be that useful but by seeing what they do and where they put their money, you're able to really figure out where the leavers are that will make them want to sign a cheque.
What are the next steps for Duel?
We're on the road to series A investment as we speak, and that's allowing us to increase our American footprint. We already have some big brands out there which we're really excited about working with but we want to increase that. We supported 240 brands last year and we'd like to expand that considerably. We did very little marketing before getting the product right, and now the product is really taking off.
We're driving up to 40 X ROI on brands' investment in the software. Which means that we can now show people what other brands are doing, and they get excited by it. We're expecting to grow pretty rapidly over the next year or two and that growth is focusing us on taking this to market. We want to build 100 programs in the next year. We really want to educate 1000 different brands as to the best practice of brand building through our advocacy lab research and development around the methodology of this niche area of marketing, and really define it so that we can help brands understand it better. We'd like to scale the content and the knowledge and offer it for free so that as many businesses as possible can learn how they can build brands in a better way that's more effective, more efficient and to get exponential results.
Discover more of the companies SETsquared incubate here and sign up to the monthly SETsquared newsletter to keep up with news, events, opportunities and more.
Recent News, Blogs and Stories
Fast track your technology business