We're thrilled to announce that five innovative tech companies with founders from diverse ethnic backgrounds have been awarded our 2022 Breakthrough Bursary.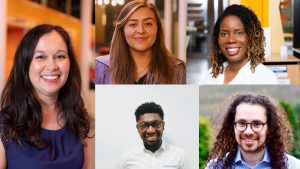 Now in its third year, the bursary provides heavily subsidised membership to our incubation programme including bespoke business support, mentoring, coaching and investment readiness training, as well as access to University of Bristol expertise. The bursary is kindly funded by SETsquared alumni.
Gritty Talent, Inclued AI, Meixter, Milbotix and Voltric are the bursary awardees for 2022.
Two of the awarded companies, Gritty Talent and Meixter, took part in our Enterprising Women pre-incubation programme before applying for the bursary.
Milbotix, which is developing wearable technologies for use in the care of older adults and people with dementia, originated as an idea from University of Bristol student, Zeke Steer.
Milbotix CEO, Zeke Steer, commented:
"Since being awarded the Breakthrough Bursary, the support we've received from SETsquared has been instrumental in shaping our investment proposition as we ratchet up our fundraising efforts."
Joyann Boyce, Founder and CEO of Inclued AI, an inclusive marketing agency, added:
"The startup journey can be a rollercoaster at the best of times but having expert advice and guidance can make all the difference to the success of a business. Receiving the Breakthrough Bursary and joining SETsquared is the guidance we need to make Inclued AI a success and we are thrilled to be part of the community."
Marty Reid, SETsquared Bristol Director, said:
"It's fantastic to welcome such a talented group of startups to our programme, from a platform for electric car subscriptions to a diverse talent platform for TV production. We are committed to promoting tech inclusivity to unlock innovation and support growth."
Previous bursary awardee, University of Bristol healthtech spinout FluoretiQ, has since raised £1.1m to produce trial units of their NANOPLEX™ product, a 15-minute urinary tract infection diagnostic device.
Neciah Dorh, Co-founder and CEO of FluoretiQ, said:
"The Breakthrough Bursary enabled us to join a community of amazing founders to learn from. I'm especially grateful for access to the Entrepreneurs in Residence and the Business Review Panels, both of which have really helped us refine our business strategy."
Visit this page for more information about the bursary and the companies it supports. To hear about the next bursary call out, sign up to our newsletter.
Fast track your technology business