To help our aspiring entrepreneurs and future SETsquared Bristol members, we showcase member and alumni case studies demonstrating the breadth of tech at SETsquared Bristol and what it takes to achieve success.
We had a chat with XCD Founder, Chris Mitford-Slade …
XCD Key Facts
Start date:  October 2010
Market sector: HR & Payroll software
Location: Bristol
Number of employees: 80
Company status: Scaling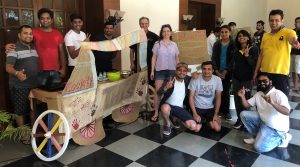 Tell me about your background and what led you to start the business? 
As Global HR Director for Messagelabs (one of the first UK cloud technology companies which was acquired by Symantec in 2008 for $695M),I saw the emerging cloud technology market and the benefits of consolidating the disparate HR, Recruitment, Talent Management and Payroll software solutions into a single cloud application. Workday was proving this model in the Enterprise market which was dominated by SAP and Oracle; and Salesforce was emerging as the lead cloud platform for building business applications. Bringing these two ideas together I set about building a single HR and Payroll solution on the Salesforce platform. That's where the journey for XCD began.
Coming from a HR background, what advice would you give to business leaders on how to retain / rethink / reboot company culture as a business grows?
Company culture is set by the leadership team. As a startup it's all about the vision, passion and innovation set by the founder. With a small team it's easier to have open communications and build personal relationships, but the dynamics change as the company grows. There's two key occasions that you need to plan for:
any funding round that impacts the balance of power / share ownership.
changes in the executive team, especially when a founder steps down and a new CEO is brought in.
Could you give me a potted history about XCD's growth story and your exit?
I funded the incubation phase at XCD in 2010 and brought in two co-founders to invest in the business through sweat equity. We had the runway to prove the business model and self-fund development. This avoided the need for SEED investment and dilution of share capital. However, getting the right exec team at the right time was absolutely critical. We had a team of three: CEO, CTO and COO. This provided a breadth of experience and open discussion; if it was two, then we could have been at loggerheads. We secured £1m investment in 2016 from serial entrepreneur Vin Murria OBE; with a further £2m in subsequent years. I stepped down as CEO in October 2017 to let the investment team scale the business and handed over control. There were a number of exit scenarios for XCD (merger, listing, trade sale and equity buy-out). We explored all of these and agreed to an equity buy-out which was completed in October of this year; the 10th anniversary of setting up XCD. This was the right time to step off and the company continues to grow.
What are you most proud of?
Building a global team across UK and India with a shared vision; and their commitment, enthusiasm and passion. The team building events in both UK and India helped to build the bond across the team and get everyone aligned to the business plan; they were memorable occasions.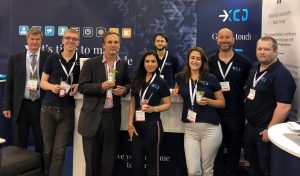 If you could go back and do one thing differently whilst building the business, what would that be?
I would have brought in a mentor and non-exec director who was independent from both the investors and the executive team to support the founder through funding rounds, restructuring the executive team, handover of control and exit.
How did you enter SETsquared?
I was introduced to previous SETsquared Bristol Director, Nick Sturge, at a networking event in Bristol and presented my business plan to the SETsquared team a few weeks later. That's where the journey began.
How did SETsquared help you?
SETsquared were invaluable in the incubation phase – many thanks to the Director and Entrepreneurs-in-Residence for the mentoring, advice, contacts, moral support and the Business Review Panels. Being able to work out of the SETsquared offices and network with other entrepreneurs was invaluable in the early stages.
What projects are you working on now?
I have embarked on an Non-Executive Director (NED) training programme with Transpire so that I can develop my skills as a NED. I want to focus on helping startups on their journey and look forward to working with the SETsquared Partnership and mentoring at SETsquared Bristol to add value to early-stage founders on their journeys.
What advice can you give to other aspiring founders?
Cashflow forecasts, modelling and investment planning are absolutely critical. This is part of the strategy but "cash is king", so must be at the forefront of the founder's mindset; be prepared for the sleepless nights!
There are three key phases that you need to plan for:
Incubation (prove the business model)
Scaleup
Exit
Timing of both investment and exit are critical; they are high stress events and you must plan for them mentally. You need to get the right outcome for your family, the business, the employees and the other shareholders. It's a delicate balance.
Setting up and growing a business is an exciting fast-paced environment, but it's never an easy ride. There are highs and lows; but you must have a clear vision with the commitment and dedication to see the journey through. I have been on this journey twice and seen them both through to exit.
Discover more of the companies SETsquared incubate here and sign up to the monthly SETsquared newsletter to keep up with news, events, opportunities and more.
Fast track your technology business