Crowd sourced video combines Brunel's innovation of the past with Bristol's future innovators
SETsquared Bristol partner with their members, video platform Sauce, to produce a collaborative video of the incubator's networking event
Taking place on board the SS Great Britain on Tuesday 4th September, the event gave attendees the opportunity to network with a wide range of people and expand their entrepreneurial networks
Attendees were invited to experience new tech first hand and join the video challenge, by uploading clips that represented technology, innovation, or growth
Bristol's vibrant tech community was captured in action last week (Tuesday 4th September), in a unique, crowd-sourced smartphone video created at SETsquared Bristol's Connect networking event.
In partnership with SETsquared members and collaborative video platform, Sauce, attendees at Connect were invited to take part in a Video Challenge. The brief was simple: film someone or something that represents technology, innovation, or growth, and was a means of creating content via audience participation.
Each Video Challenge submission highlighted the contributor's involvement with SETsquared and the Bristol tech community, with the best clips featuring in the final edit. This resulted in a wide and varied composition providing a snapshot of Bristol's current tech scene. You can watch the final cut here.
The event is one of SETsquared Bristol's bi-monthly get-togethers for the incubator's tech start-up members, which aim to help foster peer-to-peer relationships and potential collaborations. Sponsored by FD Works, and welcoming over 100 attendees, SETsquared Connect ventured into a new part of Bristol combining Brunel's innovation of the past with the innovators of today and tomorrow.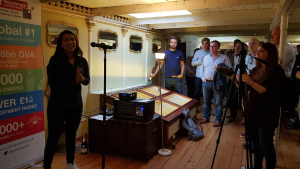 Co-Founder of Sauce, Priya Shah, said:
"Sauce is proud to be a media partner with SETsquared Bristol at the Connect event, where our video collaboration platform was used to produce a crowd-sourced short film of the event. Sauce empowers organisations to create authentic, high-quality community driven video content, powered by smartphones. We're excited that SETsquared has chosen to use Sauce, putting its tech community at the heart of its content creation."
SETsquared Bristol Centre Director, Monika Radclyffe, said:
"We love trying out our members' technologies. There is no better way to immerse ourselves in what they do. We were thrilled to work with Sauce in collecting crowd-sourced video content to engage the audience at our SETsquared Connect event, resulting in a fantastic film."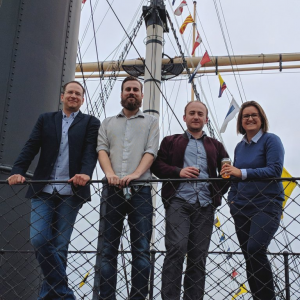 Video platform Sauce joined SETsquared Bristol through the Oracle Startup Cloud Accelerator programme. Sauce reinvent the way brands collaborate with their communities, by allowing multiple team members to upload and edit film footage and create collaborative stories.
Offering a fast turnaround in producing media, Sauce's collaborative smartphone videos helped to convey a more authentic and immersive view of the event, and the people and companies that connect with SETsquared Bristol. More than 100 people attended, including SETsquared members and mentors, business leaders, academics, investors, corporates, key partners, and stakeholders.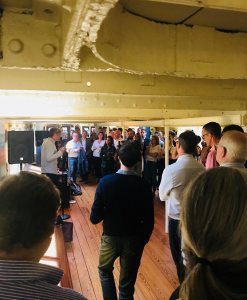 Recent News, Blogs and Stories
Fast track your technology business