To help our aspiring entrepreneurs and future SETsquared Bristol members, we showcase member and alumni case studies demonstrating the breadth of tech at SETsquared Bristol and what it takes to achieve success.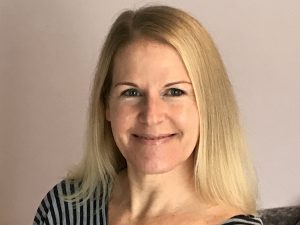 We had a chat with Data³ Founder and CEO, Helen Tanner…
Data³ Key Facts
Start date: March 2017
Market sector: Big data
Location: Bristol, UK and Wellington, New Zealand
Number of employees: 15
Company status: Early scaling
What does Data³ do?
EVERY business has the same problem – multiple data sources, disconnected platforms, and no single source of the truth. Because EVERY business uses the same tools – Google Analytics for web, a CRM tool like HubSpot/Zoho, a financial tool like Xero/Quickbooks, all the usual social media tools, and more. We get business data into one place so business leaders can make quicker, smarter, data-driven decisions, and ultimately make more money.
We solve this universal business problem in two ways:
myDATA3 – our SaaS product, which is the only business tool to provide instant dashboards, benchmarking, and natural language search of business data for SMEs. We have a Free version and Pro version with more functionality.
Data3 – our award-winning data agency that builds bespoke, tailored data solutions for SMEs including data warehouses, dashboards, and analytics. We're proud to have delivered over 70 projects for 50 plus businesses.
Tell me a bit about your background and what led you to start the business.
I started as a coder working at The Met Office analysing data from offshore weather buoys. Part of my job involved trips to sea, to change the wind vanes, anemometers and similar on floating buoys just off the UK continental shelf. A unique first job!
I then spent 12 years working in the corporate world for global financial services firms. I specialised in marketing, particularly sales-driven marketing, working to Director level. I kept coming up with data-driven ideas to create new sources of competitive advantage, and new revenue streams, such as new data analytics products for customers, or benchmarking tools, or predictive forecasts. And I thought – why am I helping these huge businesses to make even more money? It wasn't motivating. So, I wondered if I could help small businesses instead.
I set up Data3 in 2017 with one mission – to enable small businesses to benefit from big business data and AI tools.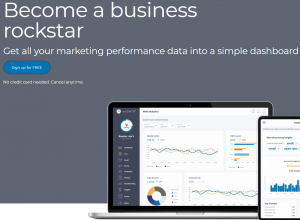 Why is it so important for SMEs to be data-driven?
Data-driven businesses make more money. According to McKinsey, Forrester, & co, data-driven businesses generate 23 times more customers, are 162% more like to exceed revenue targets and see a 30% average growth rate. Yet 97% of data is unused according to Gartner.
With our clients, we have seen greater than 10% increase in profits and ROIs of more than 5 times for a data project. This has been realised through resource cost savings by automating manual tasks, improved sales, marketing and customer conversion rates, and/or by monetising data through creating new data services for their customers. Plus, our clients have significantly reduced their risk of data loss, breaches, compliance issues and/or manual data errors.
There are two truths that I always talk about with business leaders:
Your data is only going to get more complex, as it's growing every day
If you don't innovate using data, your competitors will lead the way
What is the ethos behind the business?
I'm passionate about working with SMEs, as my Dad runs a small business, and I've seen first-hand how tough it can be. And business is tougher than ever for SMEs right now. Brexit. COVID. Lockdown. Energy crisis. Driver shortage. Many are cash-deprived, debt-ridden, cashflow-focused, and time poor. At the same time, the tech revolution has fast-tracked with QR codes, online shopping and widescale adoption of online tools. Combine all this with a technology skills shortage. It's the perfect storm.
We know that SMEs want to make more use of data and artificial intelligence (AI) – they can see the benefits, but lack the skills, time, or funds. This is proven through our projects with over 50 businesses in the last 4.5 years, as well as through global studies by respected organisations like McKinsey, Gartner, and others.
My vision is to enable SMEs to benefit from big business tools like data analytics and AI. I want to level the playing field. I want to make data and AI simple for SMEs. I want to help SMEs to survive and thrive despite the perfect storm.
That's why we built our product myDATA3, which is designed for SMEs to see instant, no-code dashboards and business benchmarking, with no need for technology skills. We give SMEs access to fast, intuitive data that they can use to grow their business quicker and minimise losses. Over 140 businesses use our product today, and we've got ambitious targets for UK and global growth from next year.
How has SETsquared Bristol helped you?
I thought being an employee was hard… until I founded Data3! Launching, running and growing a business, particularly as a solo founder, is brutal. The support and camaraderie of SETsquared, and their community of tech founders, has been fantastic. It's kept me sane during the tough times and inspired me to be more ambitious during the good times.
There's also so much I didn't know about running a business – how to scale, how to expand overseas, how to raise investment, how to remain compliant with tax, accountancy, legal rules, and so much more. Being able to ask for advice, whenever I need it, from the SETsquared team is hugely reassuring for me.
It's also such a privilege being surrounded by a bunch of super smart, hugely experienced, and genuinely lovely people. I'm often the least experienced one in the room on a certain topic means I'm learning all the time. I love that.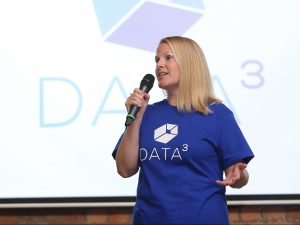 Tell me about your international expansion opening franchises in New Zealand and Australia.
We launched Data3 New Zealand in August 2021, and we'll be launching Data3 Australia in Q1 2022. I've always wanted to expand Data3 globally. By starting with English-speaking countries first, it significantly lowers the barriers to entry. I'm lucky to have 3 business partners on the ground in Wellington, New Zealand. Not only are they very experienced technology and data experts, as well as being smart and entrepreneurial, but they're three of the funniest, loveliest people you'll meet.
We set up Data3 New Zealand as quasi-franchise, where the Data3 UK brand, proposition, sales and marketing solutions are licenced to Data3 New Zealand. And Data3 UK is a shareholder.
So, we're now offering Data3 agency services to New Zealand businesses, and we plan to launch myDATA3 in New Zealand and Australia in 2022, as our first overseas product launch.
What businesses do you work with?
We love working with SMEs.
myDATA3's usual customers are startups and scaleups with 5-20 employees, high growth businesses, members of business accelerators, and we often work with the founders, C-suite, or marketers.
Data3's usual customers are businesses with 50-1,000 employees, digitally-savvy and working through a digital transformation, in a variety of sectors such as finance, tech, agencies, real estate or manufacturing. We often with the CEO/MDs, COOs and CFOs.
We help businesses with both their data pains and data opportunities.
The data pain – "I don't know my numbers", "I don't trust our data", "We're messing around with spreadsheets" or "I'm frustrated at how hard it is to get an answer to a simple question". The data opportunity – "We're sitting on a data goldmine, but we don't know how to monetise it", "We want to create a competitive advantage" or "We want to be data-driven".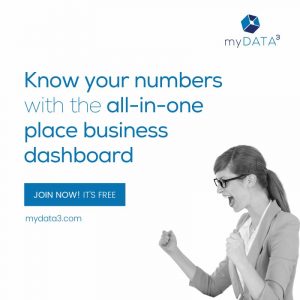 What are you most proud of?
We're nearly at the 5-year point (March 2022) and that feels HUGE to me. So, I'm proud of:
My amazing team of data gurus – they are AWESOME and take my vision and elevate it to brand new levels
Our awesome clients – they are a joy to work with, so we love working on their data challenges and continuously improving what we do for them
Our Board, NEDs, partners, suppliers, and advocates – they provide everything from client referrals through to expert advice
Me! – keeping myself motivated, mentally healthy, physically healthy, and positive despite the tough times… it's been one hell of a ride so far!
What advice would you give to women looking to start a tech business?
Just get started – if you don't try, you'll never know if it's right for you.
Take the risk – yes, it might not work out. Yes, you might fail. Yes, it will be incredibly tough. Yes, it could be embarrassing and costly. But… what if it all works out?!
Ask for help – whenever you need it, don't be proud, don't suffer in silence and don't expect people to be mind-readers – people WILL help you. Just ask them.
Roll with the tough times – and know you absolutely will get through it… somehow, somewhere, somewhen!
What are the next steps for Data³?
We're all about doubling down on our growth so far…
We're launching lots more functionality for myDATA3 in Q1-Q2 2022 and then expanding overseas.
We're building innovative solutions for our current Data3 clients, as well as acquiring new clients all the time, starting with UK, New Zealand, Australia, then other countries to come.
In a nutshell – we're just getting started!
We're also planning our first fundraising round so we're looking for investment partners to support our growth plans and to come along for the ride – contact me at helen@data-cubed.co.uk if you'd like to find out more.
Find out more about SETsquared Bristol companies here. Sign up to the monthly SETsquared newsletter to keep up with news, events, opportunities and more.
Recent News, Blogs and Stories
Fast track your technology business