To help our aspiring entrepreneurs and future SETsquared Bristol members, we showcase member and alumni case studies demonstrating the breadth of tech at SETsquared Bristol and what it takes to achieve success.
We had a chat with FluoretiQ Co-founder and CEO, Neciah Dorh…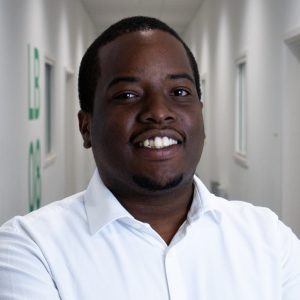 FluoretiQ Key Facts
Start date: 2 March 2017
Market sector: Healthcare (Diagnostics)
Location:  Bristol
Number of employees: 10
Amount of investment raised: £2.1 million (grants and equity capital)
Company status: Fundraising
What does FluoretiQ do?
FluoretiQ is a multi-award winning, Bristol based medtech startup founded by Josephine Dorh, Martin Cryan and myself. Since being founded in 2017, FluoretiQ has built an interdisciplinary team of scientists, engineers and business leaders to tackle major diagnostic challenges, with active projects in infectious disease and oncology diagnostics.
We have developed NANOPLEX technology, an advanced test to diagnose bacterial infections in 15-minutes. The NANOPLEX technology platform has a lot of potential to impact several different areas of healthcare, but our immediate focus is on Urinary Tract Infections (UTI) and over-use of antibiotics. There is a huge need for a diagnostic that can enable primary and secondary healthcare providers to promote evidence-based prescriptions and aid clinical decision making.
Why is antimicrobial resistance classed as a huge crisis, often called 'the other global warming'? How does your technology address this?
Modern life relies on antibiotics. We have all taken this for granted when we visit our GP after developing a routine urinary tract or chest infection to get these wonder-drugs. We often forget that for those who have just undergone surgery or chemotherapy – these are lifesaving!
Yet because of our overuse and over-reliance on antibiotics, we find ourselves on the brink of a global crisis. Bacteria from routine infections are becoming resistant making antibiotics less and less effective each year. Over 700,000 people are killed each year by these untreatable infections, which is equivalent to the population of Bristol, Bath and Exeter combined! If we do not act now, this number will rise to 10 million people by 2050 and resistant infections will be responsible for more deaths than cancer.
We know that overuse is a combination of the limited time we have in consultation with our doctors, the lack of a fast and accurate point-of-care test, combined with the pressure we exert on them to prescribe something so we can feel better.
Our NANOPLEX technology will address this by enabling rapid diagnosis within the time-constraints of a typical consultation. This enables physicians to reduce the empirical use of antibiotics: avoiding antibiotic use when it's not needed and promoting evidence-based prescriptions when it is.
This act of stewardship is critical to preserve the efficacy of our limited antibiotic resources and to begin to curb the global antibiotic resistance crisis.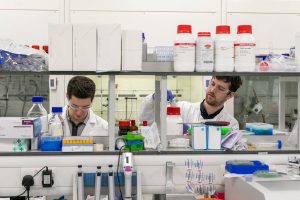 Tell me a bit about your background and what led you to start the business
FluoretiQ really came together during my time as an Enterprise Fellow at University of Bristol's Quantum Technology Enterprise Centre (QTEC). QTEC ran a brilliant programme to help scientists take their innovations out of the lab and into the real world which was the perfect catalyst for budding entrepreneurs. Having previously researched faster methods for detecting hospital acquired infections, I was aware of the need for rapid testing methods and the significant impact solving this challenge would have in healthcare settings around the world. Our journey was started by myself, my wife Josephine and Professor Martin Cryan at the University of Bristol back in 2017. As alumni of University of Bristol, we were able to access expertise from leaders in glycan chemistry, microbiology and engineering which eventually became the foundation of our NANOPLEX technology.
We identified urinary tract infections as a good starting point, initially by pitching the early NANOPLEX assay technology to a Pathology Lab Manager and Head of Microbiology at an NHS hospital laboratory. Their initial feedback pointed us in the direction of urine testing and through continued engagement with clinicians, we uncovered the scale of UTIs; every hour in the UK alone, 900 people present to their GP with a UTI!
Since starting FluoretiQ, we have personally met several people who have been negatively impacted by the shortcomings of today's UTI tests which strengthens our resolve to enable healthcare providers to prescribe effectively – saving time, saving money and ultimately saving lives!
What was your journey like as a spin-out from the University of Bristol into SETsquared business incubation and commercialisation?
I was really fortunate to be part of the first cohort at QTEC who were working closely with SETsquared Bristol. They provided tailored sessions that were essential for us during the early formation of the business and during setup of the core team to carry the business forward. We've also enjoyed a supportive relationship with University of Bristol through collaborative grants and technology transfer. Starting a business is tremendously hard work and it made a significant difference having access to an ecosystem of fellow entrepreneurs, investors, mentors and professionals to help navigate the challenges and avoid common pitfalls! We had this first through QTEC and more recently through SETsquared's Breakthrough Bursary.
How has SETsquared Bristol helped you?
SETsquared has given our business some very tangible benefits. The Entrepreneur in Residence and Business Review Panel sessions are a great source of objective feedback and guidance for our business, enabling us to honestly evaluate our strategy with experienced entrepreneurs.
It's also incredibly useful to meet entrepreneurs in the local area who have experienced similar challenges and can share solutions together. Our network has grown with SETsquared and we have certainly benefited from listening to the varied perspectives of CEOs at different stages of company development and sector specialism.
We have significantly enhanced our network reach with their newsletters and social media platforms. This gives FluoretiQ a much louder voice that extends beyond the South West, ensuring that our developments can be heard by those who need to hear them.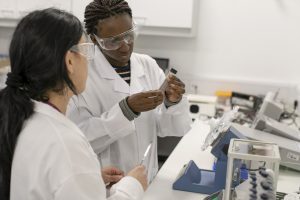 Why do you think that BAME-led businesses are still underrepresented in the Bristol tech sector? How can this be improved?
There is still significant under-representation but the continued promotion of programmes, like the Breakthrough Bursary scheme, are very important as a catalyst for the region. It provides access to support and opportunities that target diverse founders: a network that can often feel impossible to reach without this support.
There is also a continued role to be played by investors, policy makers and the innovators themselves as diverse business owners must be visible as role models to help inspire the next generation of entrepreneurs and innovators.
What investment have you raised?
We've raised £2.01 million in grants and equity capital, £1.74 million of which was equity capital from angel and VC sources. We are very grateful to the continued support from our investors at Deepbridge Capital, MAINstream and Bristol Private Equity Club.
What advice would you give to other healthtech researchers looking to start a business?
Spend time as early as possible understanding the unmet clinical need from your target user and customers perspective; this is so vital to both successfully navigating regulatory requirements but also to ensure that your R&D is going to lead to a viable product.
Networking is critical; this is a team sport, and you need all the support you can get in the early days, so take time getting to know the people who will help propel your business.
Speaking of the team, once you do have one, encourage the development of expertise within your organisation. We have invested in developing our multi-disciplinary team by offering opportunities to nurture skillsets through mentorship from our experienced Board, Management and Scientific advisory teams. This enables us to make better, well-informed decisions, whilst ensuring that key skillsets are retained within the core team.
What are you most proud of?
One of our biggest successes continues to be the resilience and cohesiveness of our team. Our team has grown significantly and faced many challenges since 2017, but they continue to work hard, and we are continually rewarded by the progress made. For example, this year our R&D team began translating our NANOPLEX assay into our first product prototypes and some of our research advances were presented at the prestigious ECCMID infectious disease conference. Translating science to impactful products is often fraught with challenges and setbacks but these achievements have been a great reminder that we are making progress in the right direction.
What are the next steps for FluoretiQ?
2022 will be an extremely exciting time for us, as we work collaboratively with our product design partner, regulatory consultants and Chief Medical Officer to develop prototypes in readiness for
our upcoming clinical work with North Bristol NHS Trust.
As our flagship product readies itself for market, we're also very excited about our upcoming R&D pipeline tackling new infectious diseases and Antibiotic Sensitivity Testing.
Discover more of the companies SETsquared incubate here and sign up to the monthly SETsquared newsletter to keep up with news, events, opportunities and more.
Fast track your technology business