Sixteen of our member companies will exhibit and demo their innovative products at our flagship Tech-Xpo 2022 showcase on 29 June.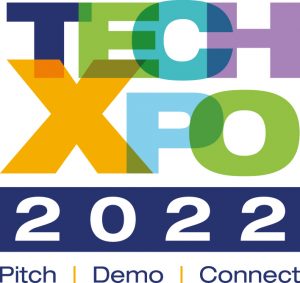 The companies shortlisted to compete for Best Elevator Pitch award are: Corus, Grand Bequest, Hope Tech, Inclued, Lurnable, Metasonixx, Milbotix, Optect and Voltric.
The annual showcase will take place at the incredible St George's Bristol with an invited audience of over 200 investors, business leaders and potential partners. The event will also be livestreamed for a wider audience.
Winner of Tech-Xpo 2021, Jenny Bailey of Ferryx, a University of Bristol biotech spinout, will be speaking at this year's event. She said of their win: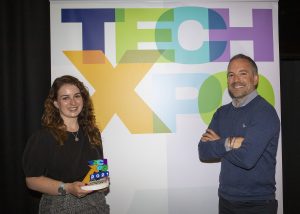 "Tech-Xpo gave us a great opportunity to share our plans to improve the lives of millions of people suffering from gut inflammation and to network with people who may be able to join us on our journey. We have since closed our first investment round and been able to progress product development, getting our product closer to the hands of those who need it."
Previous winners of Tech-Xpo's prestigious award also include KETS Quantum Security, world leaders in quantum cryptography hardware solutions, and LettUs Grow, a pioneering aeroponic technology provider for indoor and vertical farms.
Voltric, an awardee of our Breakthrough Bursary 2022, will be among nine others pitching for this year's prize.
Julian Mensah, CEO and Founder of Voltric, the all-inclusive subscription service for electric cars, said: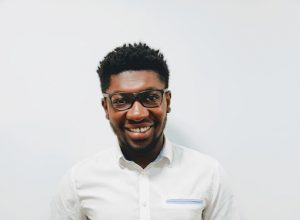 "Having just recently closed our oversubscribed pre-seed of nearly £300K, I'm looking forward to engaging with potential partners who could either help us grow our fleet or support us in our next raise as we prepare for our seed round. More importantly, I'm excited to create more awareness of our brand at Tech-Xpo."
Marty Reid, SETsquared Bristol Director, said: 
"We're thrilled to bring our startup community together again for the highlight of our year, shining a spotlight on some of the UK's most exciting tech innovations, from createch to healthtech. I'd like to say a huge congratulations to our pitching and exhibiting companies; this event wouldn't be possible without their talent and dedication."
Our Lawyer in Residence, VWV, are the headline sponsor for the 12th successional year. Other sponsors are SIEMENS, OnePLM, FD Works and Rocketmakers.
The winner of Tech-Xpo 2022 Best Elevator Pitch will be announced on 29 June. Watch the recording of last year's Tech-Xpo and join the conversation using #TechXpo22.
If you are an investor interested in attending the event, please email bristol@setsquared.co.uk for an invite.
Information about exhibiting companies
Actuation Lab is combining the latest innovations in materials, manufacturing, and origami-inspired design to create low-wear hardware for a more efficient planet.
Corus is a CaaS platform (Culture as a Service) supporting intelligent investment in organisational culture and employee wellbeing.
FluoretiQ is on a mission to champion antibiotic stewardship, giving clinicians the near patient tools that they need to unlock optimal patient outcomes.
Grand Bequest is a property technology company using data analytics, conservation, and sustainability to promote the global redevelopment of vacant buildings.
Hope Tech creates non-intrusive support tools that help visually impaired people feel safe, confident and independent to participate fully in society.
Inclued AI is a companion software that helps content creators identify bias as it happens and to create campaigns that truly represent their target market's diversity.
Lurnable is a data-driven education technology company focused on delivering bespoke international student services.
Metasonixx's patented IP transforms standard materials, like plastic wood or metal, into metamaterials: solutions to engineer silence in the built environment.
Milbotix's smart socks will help those involved in caring for people experiencing communication difficulties to manage distress better.
MyBones' Marodyne LiV device is a compact and easy to use low-intensity vibrating platform that fulfils the unmet clinical need for a non-drug approach to combat osteoporosis.
Optect's advanced optical technology is able to achieve reliable flame detection at 1km, an increase of 11X over the current industry maximum detection range of 85m.
Senmag Robotics are on a mission to democratise the sense of touch by developing simple, affordable, high fidelity force feedback devices.
Shelf Conscious provide the toolkit brands that retailers need to efficiently monitor and optimise their digital shelf.
SpatialCortex's first product, MOVA targets reducing work-place manual handling injuries or musculo-skeletal disorders (MSDs).
Voltric provides users with an all-inclusive subscription for electric cars. Insurance, charging, servicing, and all aspects required for an electric vehicle, are included in the monthly cost.
Zeetta is a software company solving the emerging need to autonomously manage enterprise application end to end connectivity.
Recent News, Blogs and Stories
Fast track your technology business