To help our aspiring entrepreneurs and future SETsquared Bristol members, we showcase member and alumni case studies demonstrating the breadth of tech at SETsquared Bristol and what it takes to achieve success.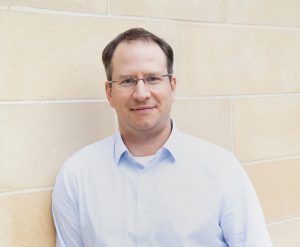 We had a chat with KETS Quantum Security CEO and Co-founder, Chris Erven…
Key Facts
Start date:  July 2016
Market sector: Cyber security
Location: Bristol
Number of employees: 13
Amount of investment raised: £3.18m
Company status: Early scaling
What does KETS do?
At KETS, we've figured out how to miniaturise quantum-safe cryptographic chip-based hardware that's not crackable or hackable by a quantum computer. Our technology, specifically the size, form-factor, and price-point we can reach, finally makes quantum safe encryption commercially interesting to telcos, data centres and defence and space, as it's easily integrated within their systems.
The main breakthroughs for this are two of the technologies from our research at the University of Bristol: the first is quantum random number generators that produce the most random numbers on the planet, while the second is quantum key distribution that generates the most secure digital keys that you can then use to communicate securely with.
How does KETS use quantum technology to fix some of the biggest security problems for organisations?
Right now, we rely on algorithms for security which are based on hard maths, which is also hard for computers if the number is big enough. The trouble is that quantum computers, and other things that we might not have discovered yet in terms of computing, are really good at cracking this. KETS are fixing security problems by offering technology that doesn't have a shelf life. So long as the laws of physics are correct, it should be secure now and into the future. It's a completely different approach, based on physical principals. This is something never done before, it has always been a rat race between the algorithms versus the hackers.
We've worked a lot with telecommunications companies, such as British Telecom, as well as with their equipment suppliers like Thales who provide the security equipment that goes into the network. Defence and space has also been another key market. Our very first project was with Airbus, to fly our quantum-safe communications equipment on a drone, a precursor to using it for larger drones that could service wind farms for example, or resource hunting, or getting it up into satellites as well. Finally, as we make progress with upgrading    telecommunications infrastructure to be quantum-safe, we see data centres as one of the first big ticket use cases.
Why is there a thriving quantum community in Bristol?
The original Centre for Quantum Photonics (CQP) was created at the University of Bristol in about 2007. This expanded into the Quantum Engineering Technology Labs to include the Quantum Engineering Centre for Doctoral Training (CDT) and a quantum startup pre-incubator called the Quantum Technology Enterprise Centre (QTEC). All of this added to the already strong quantum theory group in Bristol, so it's a great place to be. Bristol were also strong contributors in two of the four quantum hubs when the UK's National Quantum Programme kicked off its first phase and continues now in the second phase. All of this contributes to a huge centre of mass. It started small and quickly grew with all the UK investment.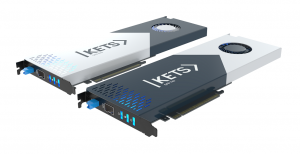 What support did you get from the University of Bristol in commercialising your technology and spinning out your business, before joining SETsquared Bristol?
The University filed our first patent which we then got to exclusively licence; we had no idea how to do that back then. They pointed me towards SETsquared in the early days and I took part in the SETsquared Partnership's Researcher to Innovator scheme and then a few of us took part in ICURe, where we got plenty of support. We found a business mentor through ICURe who is now on our Board. From there we entered the University's New Enterprise Competition (NEC) armed with all that knowledge and won it back in 2016, which gave us some initial funds, legal support, and a fully funded year at SETsquared Bristol.
And again, we had the strong support of the Centre for Quantum Photonics (CQP) and their vision of the 'Three 100s', which targeted 100 4* papers in key journals, 100 quantum startups, and £100m in investment in Bristol. Their support and encouragement was incredibly helpful to enable us to explore the commercial aspects of our research in addition to just toiling away in the lab for papers. We joined pre-incubator QTEC following the New Enterprise Competition, where we had help developing a credible business plan and gained intros to VCs which culminated in our eventual seed funding. We're now based at the Quantum Technologies Innovation Centre (QTIC) where we've been for the last two years. QTIC gave us access to millions of pounds worth of equipment, as well as office space, for a very modest service contract allowing us to stretch our seed investment and focus on the key tech development work.
How has SETsquared Bristol helped you?
The Entrepreneurs in Residence have been hugely helpful as well as the wider team – shoulders to cry on or a boot up your butt when you needed it, they were a key support early on. Being a SETsquared member has been invaluable for advice and contacts. Also, the workshops and training, for example, pitching, the Business Quick-Start course, business planning and Advisors in Residence. It's also great to have a supportive community around you who understands what you're going through, and to have access to the networking events.
Last year you won the Best Elevator Pitch prize at SETsquared's annual Tech-Xpo showcase. What advice would you give to those preparing to pitch at this year's event?
Keep it simple, be prepared, talk slowly, and choose a maximum of three points that you want somebody to walk away with. Pique their interest – you want people to remember you and pursue you for that second conversation; you're not trying to get the money on day one. And put your biggest point first, this is especially tough for academics used to giving a half hour talk with the key outcome or experimental result on the last slide. Also, find some mentors who you can work well with – people that you can trust to hold a mirror up.
What investment have you raised?
In our seed round we raised £838K with financials services provider, First Derivatives, Kx Ventures innovation fund as our lead. Shortly after, Quantonation, the world's first quantum technology focussed fund, also joined the round, as well as a third investor. All three have been absolutely great. And there's a laundry list of friends, family and angels (and probably some fools in there as well!) who invested early on.
Even before that, we had an Innovate UK grant with Airbus and a few others, which made getting investment easier because you're leveraging this money. It was a relief to secure this investment, because up until then it was our own money we were leveraging to match fund this grant! We're now on a least five Innovate UK grants with a few more submitted. Kudos to Innovate UK in really supporting this new area of quantum technology, they've been really good.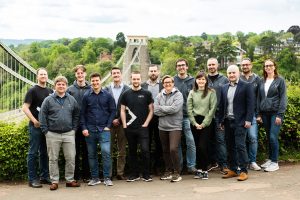 What are you most proud of?
Still being here! We're proud of the tech and what it can do, but it's probably building a high performing team, good culture, and a place where people want to come and work on some cool stuff that I'm most proud of.
If you could do one thing differently whilst building the business, what would that be?
I would bring in one or two, well aligned, experienced people, into the business early on who we work well with, to learn from and to give us confidence. We did have mentors and the help from SETsquared but it's different to have someone immersed in it day to day. This would have in turn   accelerated bringing on more good people, as well as to help educate us on what we didn't know (starting out, you don't know what you don't know!). Look for good mentors, angels, good experience to bring in early, as we didn't do this as much as we could have.
What are the next steps for KETS?
We're currently closing our next fundraising round. We turned a PhD experiment into product prototypes in our seed round. Our goals with this new fundraise in our next stage are to manufacture dev kits, get them into the hands of customers with lots of feedback testing them out in some serious use-cases, and continue to grow our world class team. As part of our current fundraise we talked to a whole range of investors including some later stage ones that are chomping at the bit to invest larger sums once we've demonstrated that next level of maturity in the product, and its installation in key places with customers giving real feedback on it. It's time for us to build, trial and sell!
Discover more of the companies SETsquared incubate here and sign up to the monthly SETsquared newsletter to keep up with news, events, opportunities and more.
Fast track your technology business