Bristol tech company Moropo has launched a new mobile app testing tool for software agencies and startups.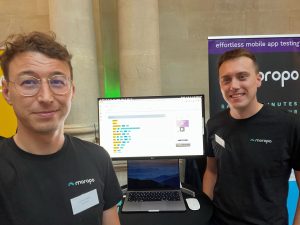 The web-based automation platform comprises a low-code test creator, a test scheduling system and a results inspector, and works for both iOS and Android.
Moropo joined SETsquared Bristol in March 2022 and has since secured over £340,000 in Innovate UK Smart Grant funding.
Founders Tom Riglar and Charles Killer formed the startup last year after encountering testing challenges at their previous business, Bristol-based app development agency Morrow. 
CEO Tom Riglar said: "We found existing mobile test automation took a long time to set up and was unusable by non-technical team members. Busy developers, founders, product managers, and support staff often manually test apps. We built Moropo so they could automate that QA process without needing engineers, saving 55 minutes for every hour they spend on manual testing".
The app testing sector is growing fast and with significant market competition, especially from venture capital-backed US firms. Moropo intends to compete in this space with its unique approach to open-source.
CTO Charles Killer said: "Competitors today focus on one of two things: running open-source tests or creating proprietary tests. The former suits developers and the latter works well for non-technical team members. Unfortunately, it makes it difficult for those two groups to collaborate.
"With Moropo, users can switch seamlessly between drag-and-drop 'Steps' and open-source 'Script' modes. So developers can get 'under the hood' for complex use cases without compromising usability for non-tech users. We're enabling whole team test collaboration with open-source standards." 
Following a successful Early Access programme involving ten teams, Moropo is now available to the public. A free forever tier allows teams to trial Moropo without commitment.
Find out more – Moropo  
Recent News, Blogs and Stories
Fast track your technology business