Following our member Radii Devices' recent grant funding success with Innovate UK's Biomedical Catalyst fund, we had a chat with Founder and CEO, Joshua Steer, to find out about his journey from researcher to medtech startup…
Radii Devices key facts
Start date: April 2020
Market sector: Medtech
Location:  Engine Shed, Bristol
Number of employees: 6
Company growth status: About to commence clinical trials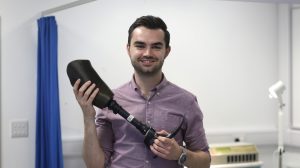 In your own words tell us what Radii Devices does?
Radii provide software to support clinicians delivering the best quality of fit for skin-connecting medical devices, to transform the lives of users.
This could be a prosthetic limb for a person with amputation, specialist seating for a wheelchair, or even a respiratory mask for someone on a ventilator. Anything that attaches to the skin, applies pressure, and needs a great fit, we're there to ensure it is as comfortable as possible.
We achieve this by using data, analysis and simulation to understand how form drives function, comfort, and quality of life. Our AI model analyses across the population, relating the unique geometry of every individual to historical device designs to evidence future best practice. This is supported with simulations to predict areas of potential pain.
By putting this technology in the hands of highly skilled clinicians, we can ensure that everyone gets the best fit, faster.
How did you start this journey?

Radii are a spinout from the University of Southampton based around PhD research. The aim of my PhD was to take the cutting-edge of engineering design and make it accessible for clinical use. We believe that designers of devices such as prosthetic limbs deserve access to the same data and simulation tools as you would see in other areas of engineering design such as aerospace.
At the end of my PhD, Radii was founded with the mission to get our technology out of the lab and into the clinic where it can be used to make a real impact on people's quality of life.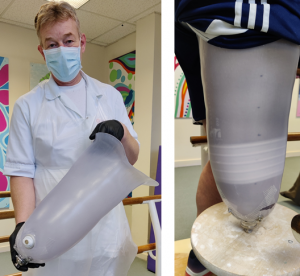 How has SETsquared Bristol support helped?

We joined SETsquared Bristol just as we founded the company back in March 2020. Obviously this was a hugely challenging time as we had to adapt our entire business plan overnight. The SETsquared workshops and time spent with our Entrepreneur in Residence (EiR) have been vital in growing the company through business strategy development, funding support, and providing advice on any challenge that appeared out of nowhere!
Additionally SETsquared's community building aspect has been vital. We found the Medtech Roundtables, facilitated by SETsquared Bristol, particularly useful. It's been fantastic to meet so many like-minded founders in this space and to be part of the region's strong healthtech cluster.
What funding/investment have you raised?
We've just completed a funding round of equity and grants for the next stage of the company. This include investment from Angels, Orthopaedic Research UK and the Innovate UK Biomedical Catalyst. With this funding we're going to be trialling software to support the fitting of prosthetic limbs in multiple NHS centres across England.
What advice would you give to other healthtech researchers looking to start a business?

Focus on really understanding the value chain of your product. Who benefits, who is going to pay for it, and how those two align. Find partners who align with your vision and that can be an advocate for you inside the healthcare service.
Ensure you build a network of other medtech/healthtech founders, there are so many challenges unique to this space around regulation, clinical trials, and funding. It is vital to have a peer group to discuss these challenges with.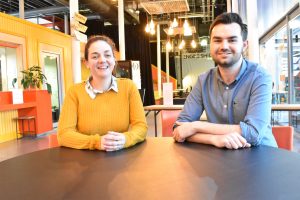 What's next for Radii Devices?
Having secured funding we've got a busy few months to deliver on our aims.
Our UK clinical trials in three NHS centres are currently being set up. The aim is to fit up to 100 people with prosthetics designed by the Radii system. This will enable us to evidence and quantify the improvements to clinical practice from our technology.
We're also performing a lot of go-to-market work on our software, including showcasing our technology at a major conference in San Antonio in September, with the aim of finding more early adopters.
Finally, we're exploring new applications of our technology in other devices and have a few exciting opportunities available to us.
Fast track your technology business