Gritty Talent partners with Channel 4 to increase talent from under-represented groups
Channel 4 is partnering with our member Gritty Talent to help independent production companies build more diverse senior teams.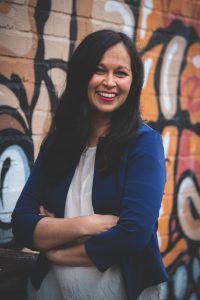 Gritty Talent, who won our 2022 Breakthrough Bursary, is a trailblazing company bridging TV, talent and technology, who discover, nurture and connect talented people from under-represented groups into the media industry.
In 2021 the startup, founded by Mel Rodrigues (pictured), was successful in gaining an £100k grant from Innovate UK to build its inclusive talent matching platform. The team now works with a range of media sector clients including BBC Studios, ITV Studios and ScreenSkills to provide smart and at scale solutions to the industry's talent and diversity challenges.
The partnership with Gritty Talent is part of Channel 4's drive to improve representation of Black, Asian and Minority Ethnic Groups as well as disabled people in the TV industry.
Last month, Channel 4 published new Commissioning Guidelines that are part of the legacy of their Black to Front Project to help transform on and off screen opportunities for diverse as well as disabled talent in TV.
Channel 4's new guidelines now require all the independent production companies it works with to have ethnically diverse as well as disabled off screen talent on production teams, with the new framework coming into play on 1 August.
Channel 4 is working with Gritty Talent to help support independent production companies in meeting these requirements.
Gritty Talent has been commissioned to do two phases of work. They will define where the skills gaps and talent shortages exist across the UK in specific genres, and they will then help to identify the suitable talent. Genres under the spotlight first will be news and current affairs, factual entertainment and documentaries.
Mel Rodrigues, Founder and CEO of Gritty Talent said:
"For the last two years we've made it our mission at Gritty to find and connect fantastic creative talent from under-represented groups in TV, and so we are delighted to be doing this work at scale and in a really thorough way with Channel 4.
We'll start by collating the research that outlines where the skills gaps, roles and talent shortages are in both unscripted and scripted TV production in the UK. We'll then use this data to ensure a large base of skilled talent from under-represented groups is visible to decision makers, so that they can recruit from a much wider pool of TV talent."
Emma Hardy, Director of Commissioning Operations at Channel 4 said:
"We want to work in partnership with producers to help them achieve our new Commissioning Diversity Guidelines. As part of our learnings from the Black To Front project, we will continue to challenge dated recruitment practices across our shows and put a robust framework in place to improve how ethnically diverse and other under-represented talent is identified, supported and connected to productions.  Our new partnership with Gritty Talent will help achieve this."
Recent News, Blogs and Stories
Fast track your technology business