SETsquared Bristol Case Study – Gapsquare: Using technology and data to create the future of fair pay
To help our aspiring entrepreneurs and future SETsquared Bristol members, we are showcasing a number of case studies demonstrating the breadth of tech at SETsquared Bristol and what it takes to achieve success.
We had a chat with Gapsquare CEO, Dr Zara Nanu…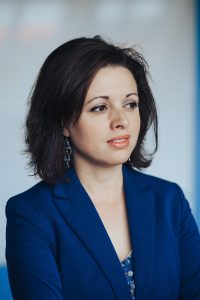 What does Gapsquare do?
Gapsquare is creating the future of fair pay. We develop cloud based software as a service, that large companies can use to look at their payroll and HR data and understand how they can pay their employees more fairly, or if they have any gaps in relation to gender pay, ethnicity pay, executive pay or equal pay, as well as pay compensation and reward.
Gapsquare Fairpay™ is a piece of software where companies upload their payroll and HR data and can instantly get insights about what their pay gaps are, why the gaps are there, what specific departments or age groups or employee characteristics drive the gaps most, and then they can take more data driven decisions to narrow the gap.
They can use it as many times as they want throughout the year to see how they can make progress, how things change, to check how any changes they make in reward and compensation would have an impact on the gap, or if there is anything within their reward systems that is having a big impact, and how they can use that data and tech to narrow the gap.
What do you think are the biggest barriers towards closing gender and ethnicity pay gaps?
One of the barriers is the political and emotional issue around gender pay and ethnicity pay. There are a lot of people in organisations getting into debates around whether they should do quotas and targets, whether this results in discrimination against certain employees and what overall impact it has on current teams. Sometimes this whole debate creates a stalemate and lack of action around addressing these issues.
We found that once our customers start focusing on the data, they can move past the political and the emotional, into a space where actually, it's the data-driven management software that helps to get into a position to get rid of pay inequality and disparity. A lot of the reward managers and HR managers we talk to, think about closing the gender and ethnicity pay gaps as a mountain, whereas the data allows them to see this one step at a time, so it becomes more manageable and more doable.
Then there are issues that are beyond what a company can address: societal issues and understandings about occupational segregation, about parenting roles, and about women's roles in society. But at the same time, we see Gapsquare's role in that as a kind of aggregator of the insights that we find from companies, and we can feed them back into policy making, stakeholders, the government equalities office, and other projects that address stereotypes. Only if we act collaboratively and holistically can we actually address this issue and then influence wider movements.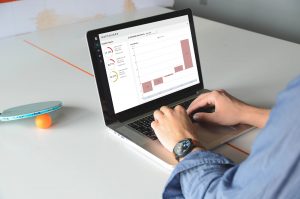 What clients have you worked with?
The way we work is that companies buy licences that they use on an annual basis. It's a self-use piece of software – we really believe in it being self-use as it puts decision making in the hands of people within the organisation. They then own the results of the data and the processes they are putting in place to make changes. Our customers include: London Metropolitan Police, The London Mayor's Office, International Data Corporation, Condé Nast, Serco, Osborne Clarke, Business West and SETsquared alumnus Ultrahaptics. We have over 150 customers, with companies in New Zealand, Europe and the US, but the UK is the largest geography at the moment. Some international organisations use it across different countries.
How did Gapsquare begin?
My Co-Founder, Ion Suruceanu, and I started Gapsquare four years ago. I'm originally from Moldova and he was there doing software development, but wanted to do something around machine learning and artificial intelligence, and I was looking at ways in which we could create a solution around the gender pay gap that would be scalable globally and fast. I didn't want to offer consultancy, because consultancy is not scalable, whereas tech actually offers the opportunity to scale a solution quickly.
Who else in your team?
We are now five people in Bristol, and three people in Moldova. In the Bristol team we have the Chief Technology Officer, Ant Kennedy, as well as the business development, Sian Webb, VP – Partnerships and Growth and Hazel Lush, Marketing Manager. We're currently  beginning recruitment for more business development, tech and data scientists to be  based here in Bristol.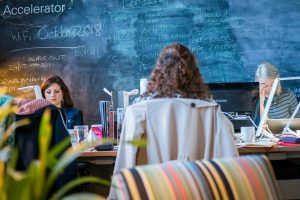 How did you enter SETsquared?
I came across SETsquared quite quickly in the journey. We came and pitched to Entrepreneurs-in-Residence, Grev and Rick, and started our membership in November 2015. We pitched to other accelerators too, but what we liked about SETsquared was how they immediately got how the tech would be scalable, why we would do it, and how it would work. So when we came for the interview, it was almost like a mentoring session – both from the point of view of developing our tech, but also developing the business. We started as virtual members, then had desks in the shared office, and later moved downstairs into Engine Shed when we grew the team. We were also awarded a place on Oracle's Startup Cloud Accelerator in 2018.
How has SETsquared helped you?
It's helped in terms of support, the BRPs (Business Review Panels) have been really useful in getting a critical perspective, especially at the point when we didn't have a board, so preparing everything and being challenged in a supportive kind of way in a board-like setting. The training courses have been amazing, and the support from EiRs (Entrepreneurs-in-Residence) has been really helpful, bringing different perspectives that helped us think about what we're doing and challenge us at the same time. I find the challenge part the most important, because otherwise you're in a bubble. It's so important to have different perspectives to make sure what you're building is actually tight. SETsquared is very supportive of diverse businesses, and I think that really helps businesses thrive. If we didn't set up the business in Bristol with its supportive ecosystem, I don't know if we would have been where we are right now.
Are you looking for investment?
We've grown the business so far based on sales and are now in the process of our first investment round to scale. We're taking a lot of in-bound enquiries from the States and France, so we want to make sure that we continue to build a platform that supports all businesses around the world to address their fair pay issues, and we want to do it fast. So, we're currently looking to raise £1 million. Organic growth will get us there eventually, but we're proactive and passionate about change, we want to see our impact grow sooner rather than later.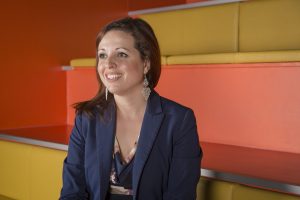 What are the next steps for the company?
The next steps are growth, growing the team and developing the tech even further, we've now laid down the infrastructure for machine learning. This, coupled with our recent admission into TechNation's AI programme (where companies like JustEat and Monzo have also completed programmes) mean we're ready for incredible growth of machine learning and AI. We're excited about applying the aggregated data that we have from our customers, so that we can get better insights and trends when it comes to company sizes, occupations, sectors and geographies. This will allow us to provide more in-depth insights to our customers that are based on their own data. We're also looking at doing integrations with some large providers. The more companies that use Gapsquare, the more data our algorithms will have, the more insights we will be able to give back to them, and the quicker we will be able to solve the pay gap.
What is the one piece of advice you can give to women tech founders?
Make sure you're operating in an environment like SETsquared and Engine Shed, where you can have support. No matter what happens outside, you'll have that safety net of a very inclusive support group. Especially as SETsquared runs the Women's Founder Forums, which are always a great opportunity to talk to other women and see that actually everyone's in the same boat.
As a woman tech Founder in a male dominated environment, you will come across many challenges, but if you've fought through the knock-backs, you will come out of the other side stronger, it creates an incredible resilience. Some days it's hard, but ultimately you'll have a resource that you wouldn't have if it had been easier, yourself and the incredible team that have been working alongside you.
Discover more of the companies SETsquared incubate here and sign up to the monthly SETsquared newsletter to keep up with news, events, opportunities and more.
Fast track your technology business