Today, 20th September 2019, is the Bristol Campaign Against Climate Change strike, part of a global movement where people all over the world are taking part in a massive day of action, and calling a halt to business as usual. With the current climate emergency, collaboration between governments, businesses and communities is vital to ensure that we make the necessary changes to avoid the dire impacts of climate change.
Being green is becoming a focus for businesses across the world and investments in wind power and electric vehicle developments are on the rise. The Greentech industry is so successful, in fact, that it ended 2018 with new investments of $279.8 billion and transactions totalling $393.8 billion. Bristol's own Greentech cluster has flourished since the city was named the first UK Green Capital, and we are proud to support a number of 'tech for good' startups at SETsquared, that aim to improve the planet.  We've taken some time to talk to our Greentech companies we're currently incubating, and how their technology can power change for better.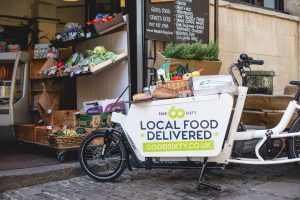 Good Sixty
Good Sixty delivers artisan food and drink from Bristol's very best local independents straight to your door by eco-friendly bike! The company's vision is to help create wealthier, better-connected communities by helping independent markets, food stores and artisan producers thrive. They strive to bring convenience shopping with a conscience to Bristol, as an online marketplace for sustainably conscious consumers to practice ethical grocery shopping.
Part of Good sixty's service aim is to educate consumers so they can make better informed, sustainable choices when grocery shopping. For instance, Good Sixty's website encourages customers to consider what produce is in season when doing their food shop because the planet benefits if consumer demand is for produce that is naturally abundant rather than artificially produced out of season. This is because fewer resources are needed in production and fewer harmful emissions are released in transporting native, seasonal food.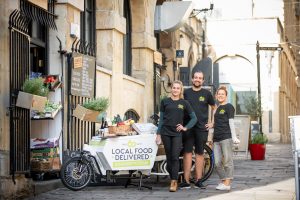 Chris Edwards, Founder and MD at Good Sixty said:
"Good Sixty's service cuts out food miles because most of our independent retailers produce themselves or source their produce from local farms, which means we're getting shipping vans off the road and lowering harmful emissions. We feel this is particularly important considering Bristol's targets to become carbon neutral by 2030. Many of our retailers are organic certified which reduces the demand for artificial fertilisers. We also encourage our retailers to offer plastic-free packaging.
SETsquared is designed for a startup business like Good Sixty. We wanted to work in an environment with other really exciting start-ups and interesting people who can help each other and bring their expertise to the table. And that's exactly what we experienced."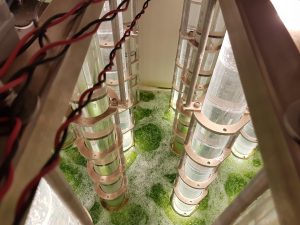 Industrial Phycology
Industrial Phycology (I-PHYC) is a multi-award winning industrial biotechnology company that supports wastewater companies with the challenge of improving our waters through the development of advanced processes to enable the use of microalgae for the chemical free treatment of wastewaters, and currently operates the largest and most advanced algal processes ever in the UK.
Every year more than 300km3 of wastewater is released into environments around the world. These wastewaters contain materials that are building up in our rivers, lakes and even oceans, causing a range of adverse effects including environmental degradation and the build-up of drugs and other chemicals in rivers. In response to this, legislative, economic, and corporate social pressures are being brought to bear around the world, demanding that wastewater operators improve their performance. It is more important than ever that new technologies are implemented that will turn around this decline in our waters.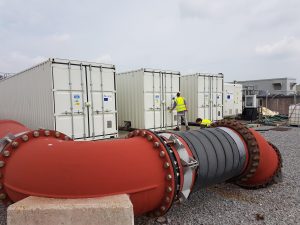 Dr Dan Murray, MD of I-PHYC, said:
"I-PHYC joined SETsquared Bristol because of the application potential of its technology, and the complexity of bringing a new industrial biotechnology process to market. We have been working closely with the experts at SETsquared to learn from the centre's experiences and gain the best footing to overcome any challenges in growing to the size we need to. This will ensure that I-PHYC and its technology can support wastewater operators around the world with their challenges, and have the largest possible positive impact on the environment."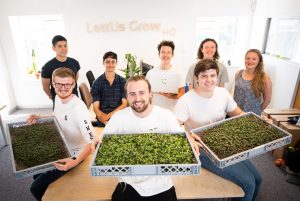 LettUs Grow
LettUs Grow was founded in 2015 to tackle some of the greatest challenges facing the world today: CO2 emissions, waste, ecosystem collapse and food security. It provides aeroponic and control equipment for farmers who want to diversify their offering in the UK, integrating with things like renewable energy, wind and solar. LettUs Grow believes that by empowering anyone to grow food sustainably and close to home, we can tackle some of these issues head-on.
India Langley of LettUs Grow said:
"Our existing methods of agriculture will not be enough to feed ourselves while also keeping under the 1.5°C above pre-industrial levels of warming needed to keep the world from catastrophe. Something has to change.
We enable indoor farms, of any size, to reach profitability that would not have been previously viable – enabling this environmentally efficient industry to scale globally.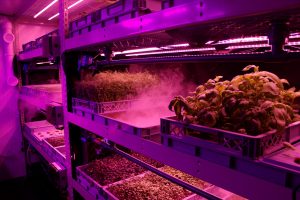 We joined SETsquared to access their experienced mentorship, world-class training and extensive founder and investor networks. As first-time entrepreneurs, this was an invaluable resource in our early years and continues to be a fantastically effective way to provide training to all of our staff, whilst exposing the whole company to the thriving Bristol tech-ecosystem. The Engine Shed and SETsquared are a core part of this."
LettUs Grow's CEO, Charlie Guy, has recently been named 'Entrepreneur of the Year' and awarded £30,000 at the Shell Enterprise Development Awards 2019, to grow and develop the company.
If you have a Greentech company that would benefit from the SETsquared business incubation programme, apply today and join the impressive cluster of Bristol businesses developing technology for a more sustainable future.
Find out more about SETsquared members here and sign up to the monthly newsletter to get SETsquared Bristol news direct to your inbox.
Fast track your technology business