SETsquared Bristol Case Study – Good Sixty: celebrating the best of independent food
To help our aspiring entrepreneurs and future SETsquared Bristol members, we are showcasing a number of case studies demonstrating the breadth of tech at SETsquared Bristol and what it takes to achieve success.
We had a chat with Good Sixty Founder and MD, Chris Edwards…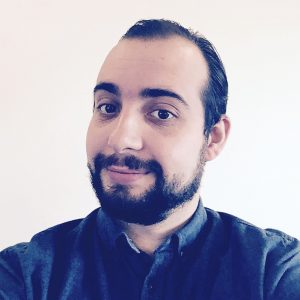 What does Good Sixty do?
The idea for Good Sixty was sparked by an annoyance! I'm a born and bred Bristolian and grew up on Gloucester Road, which historically has had the most independent shops on one road in the UK, if not in Europe. I'm a big advocate of supporting local businesses, butchers, grocers, greengrocers etc. However, in the last ten years, I've noticed a difference in the way that people are shopping. Even when people are a stone's throw away from the most amazing independent shops, there are still Ocado, Tesco and Sainsburys vans delivering groceries to people's doors. In this modern age, I think time is the most valuable asset to people, which is why they don't go to their high street to buy local; Ocado is too much of a lure. But there are so many people that say they love supporting local because the food is much better quality and better value for money. So I could see that there was a gap in the market for convenience shopping, but with a conscience. To achieve this, I thought it would be great to get all the best independents together on one online platform, so that they can easily and affordably sell their produce, reach new customers and compete against the supermarket giants.
Good Sixty is an online marketplace to celebrate the best of independent food, and bring good, ethically-sourced food to people's doors. Customers get the convenience they desire with next day delivery, receive quality food from award winning traders, and a feel-good factor from directly supporting independent producers, which benefits local communities as well. We're a zero emissions delivery company, using pedal power with electric cargo bikes which can hold about 200KG. The bikes are more cost effective and environmentally friendly than electric van and, for every trader we get on-board, we essentially get a van off the road. Bristol has recently announced a ban on diesel vehicles by 2021, so what we're doing has become even more relevant.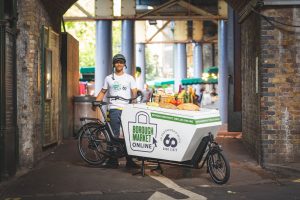 Tell us about your growth journey so far
We started in Bristol with an MVP (minimum viable product) in 2016, with one greengrocer. We launched properly four months later with 40 shops and have been growing from there. In Bristol we work with about 60 shops, in Bath about 20, and currently we're onboarding around five every week from all around the country. We should be hitting about 250 businesses in the UK by the end of the year. The goal for Good Sixty is to be the number one site in Europe for people to buy independent food throughout the country, whether it's via our local delivery service, Artisans by Post, or collecting fresh produce from a Good Sixty Hub.
We extended the business to Bath at the beginning of this year and we've just launched our Artisans by Post service, which means you can get independent food and drink from small-scale producers all over the country posted nationwide. Whether you want oysters from an oyster farm in Cornwall or whiskey from a distillery in Scotland, we can deliver artisan produce to you wherever you are in the country.
After a year of competing with 16 other businesses, we also won a 5 year contract to be the sole supplier and partner of London's Borough Market. We're aiming to work with all the traders in Borough Market to celebrate the best of local food. Customers can world-class market produce delivered to their door by eco-bike or click and collect from our in-market Hub. The Hub is made from three 20 foot containers directly in the centre of the market, where our team consolidate all the orders and deliver them throughout London or package for customers to pick up.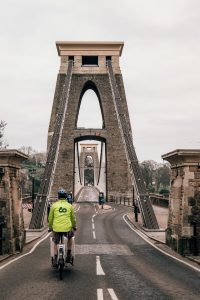 How did you enter SETsquared?
I'd just sold my last business, Synth Media, and was looking for a new adventure. Someone recommended that SETsquared was a really good institution to be part of. Our acceptance onto SETsquared's programme proved that we were on the right track and had a good idea that we should pursue.
What really drew me to SETsquared is its community of like-minded people that are all in the same boat of starting up tech businesses. I began SETsquared in the shared office with other businesses who were all in it together. Everyone is so supportive and helps each other out. We all make mistakes, we all have problems, and having people to overcome those problems with was a huge part of the value.
How has SETsquared helped you?
SETsquared gives you the push and confidence to go for it. They've been amazingly supportive. For example, when we announced the Borough Market partnership, SETsquared helped us to promote the news straight away and we were named SETsquared's 'success of the month'!
They've also provided opportunities with investors. We took part in the SETsquared Investor Showcase a while back, and the Entrepreneurs-in-Residence helped with investor readiness, getting our investor deck ready and making sure that we presented well. One of the biggest challenges that every business has is that they want to say everything in one go – knowing how to sell your pitch simply is the hardest part. SETsquared mentoring helped me to distil the messaging down to that core impactful sales and investor pitch, which has been one of the most valuable aspects.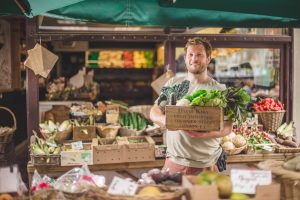 What is the ethos underpinning your business?
We think it should be easy to buy great independent, local food and we want independent shops and communities to thrive online.  A lot of our partners are traditional traders that see online shopping as a threat, but through Good Sixty, online shopping becomes an advantage where they can directly compete with the supermarkets straight away.
Our name, Good Sixty, came from a beautiful Business Insider paper in American Alliance that said "Every pound spent in your local independent shop has a 60% greater benefit to your local community than spending it with a large supermarket". We are a business that celebrates local independent traders, rather than a business model that's bastardising other businesses models to try and fit themselves. Traders want a business that they can trust, so it was important for this to be our ethos from the start, to grow sustainably and ethically, while being able to sell and make a profit for our traders. We want to show their individuality through our brand. We're very hands-on with our traders and help them by providing free photoshoots and videos to help them sell their products more effectively.
 What investment have you raised?
In 2018 we crowdfunded for £150K and overfunded at £190K, which was a huge validation. When you do a crowdfunder, there's a risk because you're putting yourself out there, and allowing people to validate you as a legit business. A lot of our customers and traders invested as well, which was really encouraging. We're currently just finishing an investment round of £250K.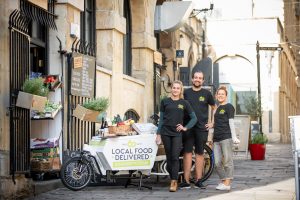 What are your next steps?
Our plans are to grow in London as well as the South West, supporting as many retailers as we can and to make the Good Sixty community bigger and better. We're also growing the team and have a new team of six in the Hub in London, which takes us to 15 staff altogether.
We want to expand into Europe and parachute the hub idea to important markets all around Europe. If we can make the Borough Market success as big as possible, then there's no reason we can't go to Time Out Market in Lisbon, and Berlin, Madrid etc.
What is the one piece of advice you can give to other aspiring founders?
Talk as much as you can to other startup founders because they're going through the same challenges and hurdles. Speaking to someone who works in marketing for an established brand, for example, is different to talking to someone that's gone through all the different stages of starting a business. It's bloody tough, but it can be really rewarding. And if you've got that community of support around you, in the right institutions like SETsquared, then it really helps to validate your business.
Discover more of the companies SETsquared incubate here and sign up to the monthly SETsquared newsletter to keep up with news, events, opportunities and more.
Recent News, Blogs and Stories
Fast track your technology business