SETsquared Bristol Case Study – Neighbourly: Helping businesses make a positive impact in their communities
To help our aspiring entrepreneurs and future SETsquared Bristol members, we showcase a number of case studies demonstrating the breadth of tech at SETsquared Bristol and what it takes to achieve success.
We had a chat with Neighbourly COO, Zoe Colosimo…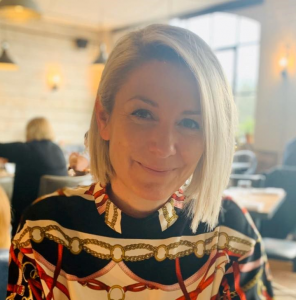 Neighbourly Key Facts
Neighbourly is a multi award-winning corporate social responsibility (CSR) platform that helps businesses make a positive impact in their communities.
Start date: 2014
Market sector: Technology
Location: Bristol
Number of employees: 30
Company status: growing/scaling: Scaling
What does Neighbourly do?
Neighbourly is a multi award-winning CSR Platform designed to help grow community investment and engagement by making it easy for companies to donate time, money or surplus products where they are needed most. The platform is public and social, helping businesses to tell their community engagement story and create a discoverable legacy of giving.
We're also a 'profit-on-purpose' business with a vision to be the leading community investment platform for business globally, creating meaningful and sustainable community investment by putting local impact at the heart of responsible business.  A grand plan – but the platform is unique, it provides a single destination for a company to coordinate its entire giving capability as well as offering surplus redistribution technology which tackles the very real problem of waste, poverty and hunger in our communities whilst also measuring social impact.
Tell me about your background and what led you to start the business
My background has been intentionally random.  I've always been interested in marketing and followed a career to experience as many facets of that from strategy and planning, comms, advertising, product development, experiential and neuromarketing, client and agency-side, B2B and B2C, public and private sectors.  My belief was/is – you have to experience as much as possible to understand how the world works – a single dimension gives you a single myopic view.
Most recently, I built and led an experiential division at EMO, which is where I met our Neighbourly Founder Nick Davies, who was the MD; it was there I spent years working on client briefs localising their marketing efforts and connecting them with community causes.  Nick had the great idea to bring local charities and businesses together online to broker the relationship and facilitate corporate giving easily in a way that can be celebrated and measured.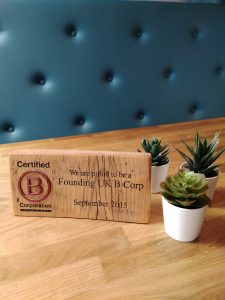 What value have you seen in being one of the UK's very first B Corporations?
2020 marks our 5th anniversary as one of the UK's founding B Corporations which means we're a for-profit company certified by the non-profit B Lab to meet rigorous standards of social responsibility and environmental performance, accountability and transparency. Being a B Corp underpins our core values and belief that business can be a force for good – we are proud to be redefining how sustainable communities are built.  There is phenomenal evidence which supports the fact that responsible businesses tend to be better places to work, are more profitable in the long term and weather storms better than purely profit-focussed companies, which is even more relevant right now.
You partner with some of the world's biggest companies, including M&S and Starbucks. What advice would you give on creating enduring partnerships?
I believe there is a simple equation to building an enduring partnership: expertise, hard-work, passion and trust. If you mix those things together, you build a great partnership.  Every company you "supply" something to, wants to know that you're doing the best you can in the most efficient way possible – building a platform gives great transparency of activity and together we've achieved things that just wouldn't be possible without digital connectivity. Starbucks' #RedCupCheer campaign saw hundreds of thousands of tweets in support of grass roots charities from people that wanted them to receive a community grant. The M&S local volunteer programme buddies every store across the UK and Ireland with a local charity to volunteer, with literally thousands of staff volunteering in the community in one week.  We've also helped Innocent smash their waste figures to almost zero: increasing the redistributed quantity from 40% of the available stock in 2018 to 99% in 2019.
How did you enter SETsquared?
Neighbourly founder Nick Davies was the person who did all the hard work there. I joined just as the IM was finalised and the prototype was being scoped. I persuaded him to join the Bristol office (we were based in Bath previously), which proved to be the right move…
How has SETsquared helped you?
Being based in the SETsquared office at Engine Shed was truly inspiring.  We were lucky enough to share a corridor with some great companies: Blu Wireless, Ultraleap, YellowDog, Camera Forensics, to name a few.  The SETsquared team provided a sense of community, essential support and advice which kept the wheels on when the start-up roller-coaster took some white-knuckle turns.  It was more important than I'd imagined to be able to share stories with peers at a similar life stage and hear about their challenges but also of course the significant wins they'd had, particularly around fundraising.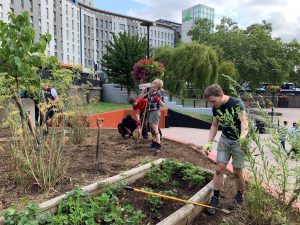 Tell me about Neighbourly's growth story
We've had consecutive years of >50% year on year growth and have built a phenomenal client base. In addition to founding clients: M&S and Starbucks, we work with, Danone, Aldi, Samsung, M&G, Heineken, Coke, Lidl, Penguin, B&Q and Cadent, to name a few! We've redistributed over 27 million meals worth of surplus food and 350 tonnes of surplus 'non-food' products, nearly £12 million in donated funds and delivered more than 66,000 volunteer hours. 2019 was a particularly pivotal year for us as we began our partnership with Aldi to roll-out a food surplus redistribution programme that would digitally connect each of their 860+ stores with local charities and groups that can use surplus food to support people in need. The programme, was rolled out in less than five months and achieved 3 million meals of redistributed food by the end of 2019 and over 5 million in the first 12 months!
How is Neighbourly supporting local communities during the COVID-19 crisis?
We are blessed to have an outstanding team – I know everyone says that, but we truly have a team of 'super-heroes'. Within 48 hours of the whole company decamping to work from home on 18 March, we had launched the Neighbourly Community Fund which has now received donations over £1.2 million.  With thanks to M&S, Lidl, Aldi, Nutricia (Danone), Coca-Cola European Partners, giffgaff, Southern Coop, HEINEKEN and their customers and members, we've been able to provide micro-grants of £400 to support good causes that are helping communities affected by the Coronavirus outbreak and supported circa 330,000 people so far.
Not satisfied with that, the team has also launched a "virtual volunteering programme" which enables staff members furloughed or still working, to support local causes they care about with anything and everything from website building, letter writing to isolated individuals and being a fundraising ambassador.
I'm genuinely grateful for everything the team's done – they've not missed a beat, have accelerated development of certain parts of the platform and generally looked out for each other.
What advice can you give to other aspiring founders
The world will change in unimaginable ways as we emerge from this crisis into a 'new normal' and we need the world's best entrepreneurs (which obviously all live in Bristol) to innovate quickly. Being agile is essential. The best bit of advice anyone's ever given me was Richard Godfrey at Rocketmakers – who said "don't wait until it's perfect or you'll never launch anything"! Be agile and iterate.  But also, be focussed on what's needed – they do say that necessity is the mother of invention. Focus is what's needed now when there are so many distractions and many shiny things which burn time.
What are the next steps for the business?
We have a solid 5 year plan.  Whatever 'business as usual' looks like in a post COVID-19 world,  the Neighbourly fundamentals will stay the same: our vision, values, proposition and collaborative approach are all well-established but, now more than ever, there's a need to remain open minded. Don't be afraid to look years ahead and know where you want to be, as long as you don't lose sight of what you need to achieve in the next 12 months.  We're fortunate enough to be one of the few companies that has high demand right now, delivering essential services for both businesses and communities, which will quickly take us to other continents when the crisis has abated.
Discover more of the companies SETsquared incubate here and sign up to the monthly SETsquared newsletter to keep up with news, events, opportunities and more.
Recent News, Blogs and Stories
Fast track your technology business