Student-led AI system wins top prize in the University of Bristol's New Enterprise Competition
Kaedim, a student start-up which uses AI to create digital assets in a fraction of the time, is the winner of this year's University of Bristol New Enterprise Competition, scooping £10,000 and a 12-month membership to tech incubator SETsquared Bristol.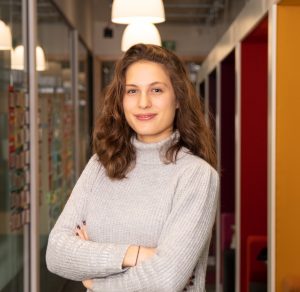 Kaedim was founded last year by Computer Science with Innovation Masters' students, Konstantina Psoma and Roman Bromidge, two of the first students to graduate from the integrated degree in 2019.
The software enables 3D creators to spend more time doing what they love by automating repetitive tasks using AI, turning sketches into digital 3D models in seconds. The prototype is currently being tested by Aardman Animations.
Konstantina said: "We are overjoyed and honoured to have won the New Enterprise Competition! It means we can put in place key measures to protect the IP we've created and gives us the breathing room to develop Kaedim into what we know it can become. We can now go forward with confidence during this summer without losing the momentum that we've built over the last year.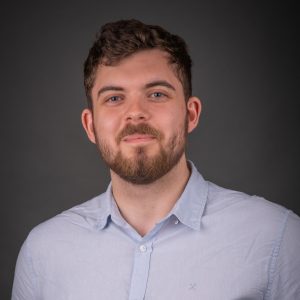 Roman said: "We are hugely grateful to the Basecamp Team for this amazing opportunity, and to the everyone at the Centre for Innovation and Entrepreneurship who helped us make Kaedim a reality. Going from only an idea to testing our first prototype with Aardman and others, we're proud of what we've already achieved, and we're even more excited for the future!"
The New Enterprise Competition is the University of Bristol's flagship start-up competition, run by the Basecamp Enterprise team. Previous winners include SETsquared members, Ultraleap, which is now the world's leading mid-air haptics and 3D hand tracking technology company, and Lettus Grow, an indoor farming technology provider which recently secured £2.35 million in seed funding.
Paddy Ireland, Pro Vice-Chancellor for Research and Enterprise said: "The New Enterprise Competition is a great platform to showcase the innovations coming out of the University. Its long history has provided some of the best and brightest from the University with the strong platform they need to launch their businesses. This year's winners are carrying on that great tradition and I'm very proud of how the New Enterprise Competition continues to support business growth."
Steve Edwards, Centre Director at SETsquared Bristol, said: "The New Enterprise Competition is a fantastic example of how tech innovation is being spotted, celebrated and supported in a connected way across the University of Bristol. SETsquared Bristol is proud to have been part of the event and to welcome two new, incredible members to our growing community. We're really looking forward to taking on the baton to support them on the next commercial stage of their entrepreneurial journey."
Four other student-led start-ups were also awarded at the competition.
The runner-up, Forefront RF, won a prize of £5,000 and pro-bono legal support from sponsors, VWV.
Forefront is developing new radio technology which enables smartphones to operate on any mobile network, anywhere in the world – something currently not possible on 4G and 5G.
HYBR also won £5,000 through the competition, with their student accommodation online marketplace platform that connects students directly to landlords, cutting out the letting agent.
Ferryx won a six-month SETsquared membership, recognised for their development of safe and effective bacterial products to prevent and treat gut inflammation with minimal side effects, with broad applications in the human and animal markets.
The winner of this year's £2,000 People's Choice Awards is E2E, which provides students, academics and businesses with a space to connect and solve problems, breaking down barriers that can hinder stimulating conversations one question at a time. The People's Choice Award attracted its highest ever engagement, with nearly 2,500 people voting after watching competitors' pitches on YouTube.
This year, the competition saw the greatest ever gender diversity in its 19-year history with seven out of 10 finalists' businesses being led by a woman founder or co-founder – thanks to a new, additional four-month programme of support which saw candidates paired with industry mentors.
The five other finalists this year were:  
AlboTherm: AlboTherm's novel polymer additives turn reversibly reflective at high temperatures, shading delicate crops when they need it most. Their additives will be used to create responsive shade paint for greenhouses, ensuring plants always have the right light.
Chisel Robotics: Chisel Robotics is redefining the amputee's experience with the prosthetic devices by introducing 'Smart prosthetic Socket for lower limb amputees', to provide personalized care beyond clinical settings.
Luminiferous: Silicon photonics uses the process that are used to make computer chips to make circuits for light. Luminiferous is creating a vast set of component designs that will help chip designers to build products with uses ranging from energy efficient communication to early diagnostics.
Quantum Dice: Quantum Dice is pioneering device-independent, self-certifying true random number generation. The unique DISCTM Quantum Random Number Generator employs advanced silicon photonics technology to produce high-quality, certified randomness from an on-chip laser source.
SilviBio: SilviBio create seed enhancement technologies to enable growers to sustainably and efficiently produce crops under a wide variety of environmental conditions. Their first prototype product is a seed coating technology which enables increased seed germination in dry conditions.
View the 10 virtual pitches via YouTube
This year's sponsors were Engineers in Business, Motorola Solutions Foundation, Santander Universities, SETsquared Bristol and VWV.
The judges included: Nathan Guest, VWV; Paul Forster, SETsquared; Jaci Barnette, University of Bristol, Suzanne Cole, University of Bristol, Nicholas Davies, Santander Universities.
Past winners have included Actuation Lab and KETS.
Simon Bates, CEO at Actuation Lab said of the competition: "Entering the 2017 New Enterprise Competition forced our team of academics to think like entrepreneurs for the first time. Having been supported through the process, we were awarded runner up in the competition and received 12 months SETsquared membership as our prize. With their support, we have now been awarded over £300,000 in grant funding and received a number of investment offers. Without the initial support of the New Enterprise Competition and the University careers team, we simply wouldn't be in this position."
Fast track your technology business